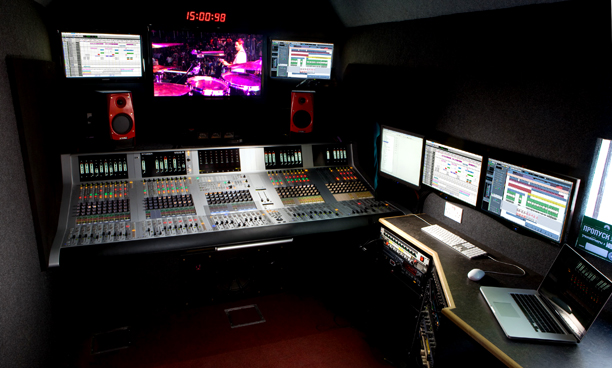 UK broadcast sound specialist Red TX recently unveiled its Red II mobile recording unit at Pinewood Studios to guests from various music and broadcast industry trade associations.
The new truck is intended for 3D and 7.1 surround-sound work, and will allow Red TX to tackle high-quality broadcast productions without the need to outsource. Its design also makes it easier to mix surround-sound audio in a live environment – and it's comfortable for the people working onboard.
'We were hamstrung by only having one truck and were often forced to lease other vehicles to fulfil our obligations,' Red TX MD, Ian Dyckhoff says. 'Having a second truck will allow us to increase workflow and offer clients the latest technology on the market.'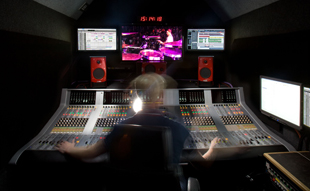 The truck features high sound insulation to allow it to perform in noisy concert or festival environments. The main studio area, which is a lead-lined, floating room within a room, is equipped with PMC ALM 1 active 7.1 surround sound monitoring and a Vista 8 mixing system powered by Studer's proprietary 'S' core technology. All microphone inputs are 96kHz, 24-bit capable with DSP on every channel.
'We have used Studer for many years and have a great relationship with the company,' Dyckhoff says. 'It's also a widely-known platform and useful for workflow, since the BBC has adopted it as a standard, it is on various sound stages here at Pinewood and also in the Royal Opera House. We were very mindful of that.'
Using its existing Studer D21m digital I/O frames with new Madi cards, and three existing 48-way stageboxes (in portable flypacks), sound supervisor Ollie Nesham says that with so little time to soundcheck multiple act shows 'Studer makes everything so much quicker. It's a very reliable desk and the graphic control is excellent.'
He also highlighted the bonus of having the Reconfig button at the point when they needed to plug in the third stagebox. 'The console is so flexible that we can add or remove stage boxes on the fly, reconfigure the console to suit with a single button press and all without disrupting the audio currently going through the desk. It's a big bonus–this function is a really quick way of doing it.'
Red II can offer simultaneous mixes to a variety of different formats and 40-bit processing to Pyramix, Pro Tools and Logic target recorders, and there is an extensive range of digital effects including a TC Electronic 6000 mainframe and Lexicon PCM96 reverb processors.
Uniquely for a vehicle of this type, Red II incorporates an additional production/overdub and video gallery room for broadcast clients that want to set up fly-pack television facilities. A great deal of time and attention has been paid to the acoustics and ergonomics of this recording space. It has silent ducted air-conditioning, while the shell is of full double wall, lead-lined construction, with the inner space floated on neoprene for maximum isolation from passing traffic and noisy environments such as festivals and outdoor concerts.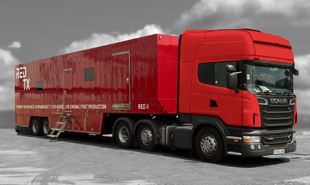 'Everything about this truck is of the highest quality,' says Dyckhoff, who was in charge of the build and technical install. 'When you are working in a live sound environment there is no room for error, so the equipment onboard had to be both reliable and capable of delivering exceptional results. We built this truck with no compromises and our attention to detail is already paying dividends because all our clients are now asking us to use it, for every project.'
Red II has already been put through its paces on a number of international projects, including a recent performance by Linkin Park in Moscow's Red Square, where the band performed 'Iridescent', a track from their new album A Thousand Suns, which is also found on the soundtrack of the new Transformers movie, Dark of the Moon. Red TX was used to capture the audio for theLinkin Park concert, which was then broadcast across MTV's platform of networks as part of the blockbuster's world premier at the Moscow International Film Festival.
Other recent outings for the vehicle include this summer's UK Download festival, and a trip to Cologne in Germany for the worldwide launch of the Red Hot Chili Peppers album I'm With You, where the production/overdub space was used as a temporary edit suite.
'During the course of my career, I've built and installed quite a few mobile recording trucks – in fact I think this is my eleventh,' says Dyckhoff. 'But I can honestly say this is the best of the lot – it is a fantastic place in which to work and it blows every other truck on the market out of the water.'
Red II was unveiled at SoundPro2011, a business and social networking event organised by the Association of Professional Recording Services, with other industry organisations attending, including the Music Producers Guild, AMPS, BKSTS, GBFTB and IBS.
See also:
Red Hot and Red II (recording the Red Hot Chili Peppers)
In the Red – Recording Michael Forever
Phantom Power (broadcasting Phantom of the Opera performance)
More: www.redtx.com
More: www.studer.ch