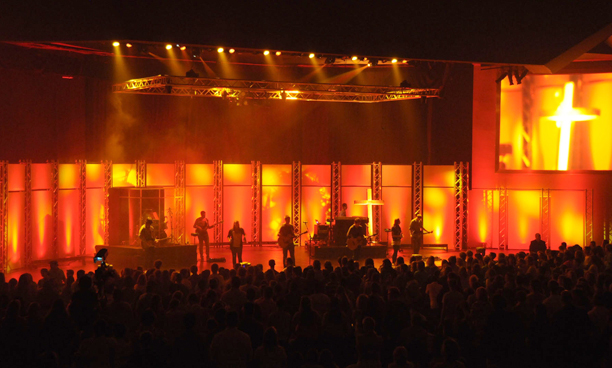 With an average weekly attendance of 16,500 across its four campuses in Florida, the Christ Fellowship Church easily ranks among North America's largest megachurches.
Continually seeking to improve its services and promote growth, the church has equipped its flagship Palm Beach Gardens worship centre with a L-Acoustics loudspeaker and amplifier system – the first KARAi and SB18i enclosures shipped to the US.
The system, designed in SoundVision, features three KARAi arrays flown in an LCR configuration (8+9+8 KARAi) concealed in soffits above the stage of the 2,200-seat octagonal sanctuary. Two four-box SB18i sub arrays, each arranged in a cardioid configuration providing focused low-frequency extension for the KARAi mains, are flown in the two spaces between the KARAi, and two SB28 subs are positioned on the floor beneath each KARAi array.
The church also is using a number of L-Acoustics' coaxial enclosures, including one 115XT HiQ flown per side to provide extreme left and right down fill, plus seven 8XTi mounted to the front of the stage, below the stage lip, for front fill. The loudspeaker complement is powered by a combination of LA8 and LA4 amplified controllers equipped with LA-AES3 (AES/EBU) cards for digital signal distribution.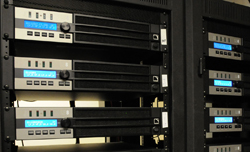 'We invited four respected loudspeaker manufacturers to come participate in a comparative listening test to help us discern which system would be the best solution for our room,' says Danny Dagher, senior audio engineer at Christ Fellowship Gardens. 'So we brought in our entire worship and media staff – there were more than 30 of us critically listening to the shootout – and we unanimously came to the consensus that KARAi was the right box. It wasn't a difficult choice. In fact, when Todd Mullins, our lead pastor, heard the L-Acoustics system, he said "Okay, I want that in my living room".
'Our previous house system was an exploded mono cluster design, which was a comb filtering nightmare. So to go from that to L-Acoustics has been absolutely shocking. The intelligibility of KARAi is breathtakingly clean, but without the fatiguing sterile harshness that one can experience on other PAs.
'I think the greatest thing I can say about this system is that whatever comes through it simply sounds like the source; it's exactly like listening to a pair of high-end studio reference monitors. The more I use our L-Acoustics rig, and the more I compare it with PAs in other venues, the more I love it.'
Alan Jones of Pro Sound and Video's Miami branch helped facilitate the sale and installation of the new system.
More: www.gochristfellowship.com
More: www.prosound.net
More: www.l-acoustics.com