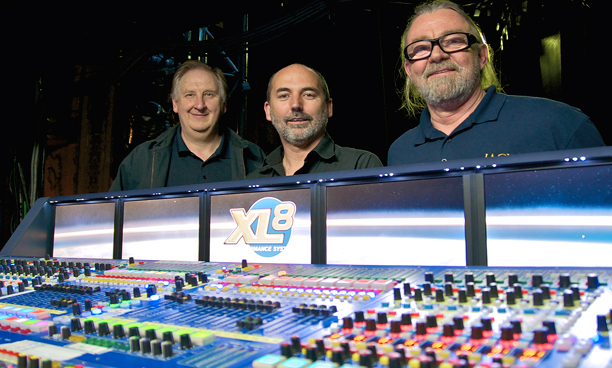 Mighty Rock Performance Technology is a new a rental operation set up to focus purely on Midas digital consoles and associated accessories – and it is home to the first Midas XL8 to be based in Australia.
Supplied by Midas distributor National Audio Systems, the desk is the flagship console for the new Melbourne company and is accompanied by a Midas Pro9 digital system, with a Pro2 series desk planned to follow within a matter of months.
Mighty Rock is the brainchild of husband and wife team Tony and Tonie Miller, CEOs and founders of pioneering events outfit Production Works based in Hobart, Tasmania and sister company to Mighty Rock. Tony Miller holds an XL200, several Venice consoles and a Midas Pro6 in the Production Works inventory – it was the acquisition of the Pro6 in 2009 that first brought to Midas digital systems.
In 2010, Production Works upgraded its Pro6 to a Pro9, but with this year's acquisition of the top-of-the-range XL8, the Millers decided it was time to create a new company dedicated to Midas digital to cater for the growing demand for these sought-after systems. 'Our established Hobart office will handle the admin but we deliberately sited Mighty Rock's storage facility in Melbourne to facilitate hires to Australia's East and West coasts, Australasia and beyond,' Miller explains. 'We are set up to support worldwide tours and as well as hardware we offer technical crew for touring, system integration, patching and programming support.'
Business has started with a bang for Mighty Rock with the XL8 and a Klark Teknik DN9696 high-resolution audio recorder delivered by National Audio Systems direct to Adelphia Studios in Melbourne for two weeks of production rehearsals ahead of the eight-week Australia-wide John Farnham Whispering Jack-25 Years On tour which runs through to December 2011.
John 'Hendo' Henderson, monitor engineer for the Australian star for more than 25 years already had experience of Production Works' Midas Pro9, and snapped up the XL8 for a complex and demanding show: 'Until I knew the XL8 was available, I was having real trouble trying to spec my rider,' he says. 'John divides the show into two sets: one acoustic, one electric. The opening acoustic set alone encompasses drums, Wurlitzer, sax, harmonica, guitars, banjo, electric bass, double bass and four backing singers, and with the electric set we're adding full drum kit with octo pads, 16 channels of keys and two electric guitars... and nearly everyone has stereo in-ear monitoring.
'Only the XL8 can provide the 36 outputs I need, and the sound quality is a real bonus. There's no brittleness or break-up at the top end like I've experienced with other digital consoles.'
'We are delighted to have done this deal – we have had a long and successful association with Production Works and the new venture means that there is now an XL8 for rental on every continent and in every major territory in the world,' Midas/Klark Teknik Technical Sales Manager, Jason Kelly, adds.
Production Works continues to provide audio touring production services for tours and theatre shows.
More: www.midasconsoles.com