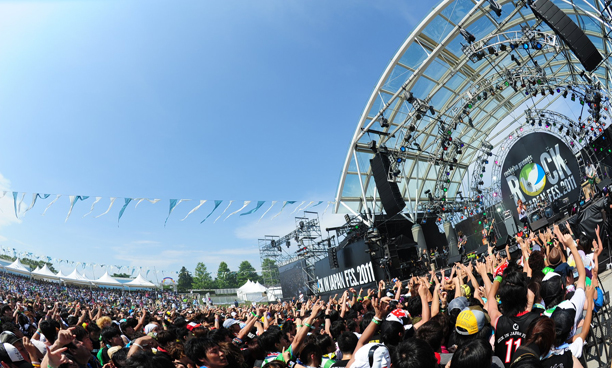 Japan's biggest music festival, Rock in Japan showcased more than 150 Japanese acts over three days in August. Among this – the 12th – year's headliners were Asian Kung-Fu Generation, Another Sunnyday and Acidman.
Held at the Hitachi Seaside Park in Ibaraki-ken, just 125km from the Fukushima Daiichi power plant, the festval featured six stages. The audio production is supplied and managed by MSI Japan, with CEO Fujii Shuzo taking personal responsibility for the event. Along with a Martin Audio W8LM line array system this year saw Apex Intelli-X² processors used for the first time on the Lake Stage – the festival's second-largest.
Supplied by Apex Audio's Japanese distributor Audio-Brains, the Apex units were used for system EQ and crossover functions. 'MSI Japan has been using the Intelli-X² processors on various productions for the past two months, and were so pleased with their performance that they were happy to use them at Japan's most high-profile festival,' says Osamu 'Sam' Yamashita of Audio-Brains.
Featuring internal processing up to 192kHz as standard, high-end studio-grade analogue circuit designs and mastering-grade compressors, the Intelli-series sets the new benchmark in system management and speaker processing design. Designed for plug-and-play operation, the Intelli-X² is simple to configure and integrate into any network. The Intelli-series consists of two system management devices, Intelli-X² 26 (2-input/6-output) and Intelli-X² 48 (4-input/8-output), providing all the system management tools necessary for comprehensive system alignment and EQ, through to the provision of IIR and FIR based crossovers.
'All the visiting engineers admired the sound quality of the units, using them was a complete success,' Yamashita reports.
More: www.apex-audio.be
More: www.martin-audio.com
More: www.audiobrains.com