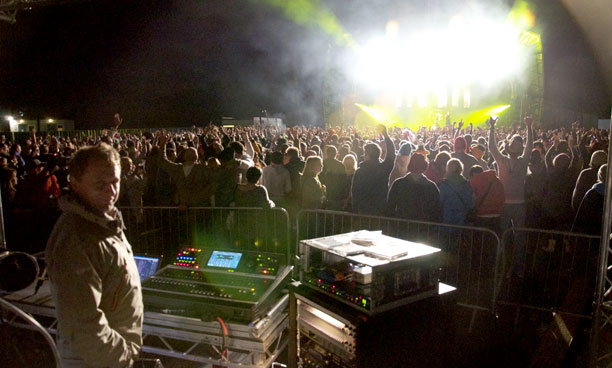 The Glastonbury tribute act festival – Glastonbudget – was held again in the UK, offering four stages and more than 130 tribute acts. It is now the largest tribute and new music festival in Europe, attracting more than 7,000 visitors.
Working with event production and rental company OneBigStar, a team from Roland Systems Group (RSG) assembled equipment for all areas of the festival, including the a M-480 live mixing console for both FOH and monitors at the large outdoor stage and another console FOH in the big top tent. There was also a Digital Snake set-up on each of the four stages.
'The M-480 is a rock solid piece of kit and did the job well,' says Neal Allen, who used the main stage desk.
With a configurable choice of available digital I/O boxes, the M-480 can support up to 90 inputs and 90 outputs – all assignable via a digital patchbay. The patchbay also has the ability to route any input to any output without going through the mixer. Each mixing channel includes two stages of dynamics processing, four-band PEQ, and delay – dedicated four-band PEQ, limiting and delay are available on every output.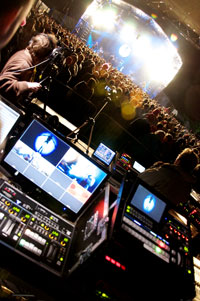 Also on the main stage, the M-48 personal mixer was used by monitor engineer Graham White to provide PFL feed. 'We used the M-48 to separate the reference control between the wedges and in-ear which allowed Graham to preview and also to control the volume of the wedges from the desk', says Simon Kenning from Roland.
The M-48 allows musicians to control what they want to listen to during their performances, via headphones and IEMs, as well as wedge monitors.
In the Big Top tent, engineers were mixing from front of house on a Roland M-480 powered by two S-1608 digital snakes. In charge of the console, Chris Yeardsley, Assistant Project Manager at OneBigStar says: 'The M-480 really is bomb proof – which is great because there are volunteer engineers here who have never used a digital console before. With the M-480, they can pick it up easily because it is so intuitive.'
In the Charnwood Arts tent, new musicians were encouraged to get up and play – some of them for the first time in front of an audience. Most played acoustic sets, but engineer James Britten had to be prepared for whatever turned up – and had to deal with a variety of set-ups including a six-piece band. Using a Roland M-300 for the job with a Digital Snake system, he had the flexibility at hand to change setup quickly and easily. 'For the price and what they do, you can't beat Roland products' he commented, 'they have the best sound quality and the best user interface compared to other products I've used'.
The M-300 digital mixing console was used FOH in a smaller covered stage area along with an S-4000S-3208 Digital Snake. 'The M-300 proved popular with all the engineers who used it and some were keen to get hold of one for their own use as they could see how useful it would be in a small venue as you could get rid of racks and replace them with seats,' adds Simon Taylor at OneBigStar.
Once again, the festival was a success with the production expertise of OneBigStar and the support of brands such as Roland, Green Hippo, EV and Laney.
More: www.rolandsg.co.uk