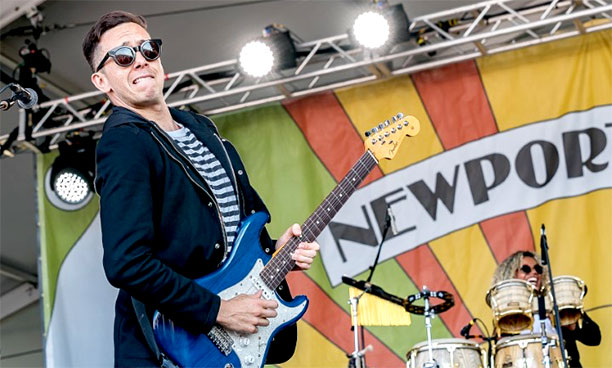 After a break inflicted upon it by the coronavirus pandemic, the pioneering Newport Jazz Festival returned in a big way in 2021, with enthusiastic fans filling Fort Adams State Park and a new take on its FOH and monitor set-up.
Established in 1954, Newport Jazz has hosted breakthrough performances from jazz artists John Coltrane, Miles Davis, Duke Ellington, Ella Fitzgerald and Billie Holiday as well as The Allman Brothers Band, The Jeff Beck Group, Frank Zappa and a 1969 show from Led Zeppelin that nearly prompted a riot – not today's average jazz festival.
Attendance was managed at half capacity, with fans required to supply proof of vaccination (or negative test results within the previous three days), and the festival stages were reduced in number. Those stages, however, hosted the likes of Grammy-nominated guitarist and producer Cory Wong, Trombone Shorty, superstar R&B vocalist and actress Andra Day, psychedelic dub rock trio Khruangbin. While big names in jazz and new music graced the stage, small and light was the theme of the mixing systems serving them – including Allen & Heath dLive CTi1500 and its dLive C1500 stablemate, which were in use by a diverse range of headliners.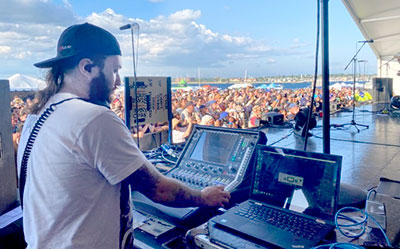 Cory Wong (Vulfpeck, Dave Koz, The Fearless Flyers, Ben Rector) went ultralight with the CTi1500 paired with a DM48 MixRack, and loaded with a Waves 3 card for virtual soundchecking and a superMadi card for broadcast sends. The CTi1500 also handled mixing of 15 MSI wedges and various comm/production functions as needed – festival power, small and light enough to be checked-in as baggage.
'When I was building our touring rig, I was looking for a modular system that would be powerful enough to handle FOH and monitors with sufficient processing options onboard to negate the need for external processing – dLive is the perfect solution for our needs,' explains Cory Wong FOH engineer, Jake Hartsfield. 'On tour, I am mixing FOH and monitors on the same engine, with the channels split between Channel 1-56 for FOH and Channel 57-112 for monitors. Then I've got the last 16 channels open for utility needs. Those 128 channels are more than enough to handle most bands in this configuration. Our entire touring rig – which includes 20 channels of wireless – fits in two Pelicans and two 12-space racks. Insane.
'At Newport,' he continues, 'we brought the CTi1500. I thought the C1500 was tiny, but the CTi is another 14 pounds lighter, making it an ideal fly-date solution. What makes Allen & Heath's modular ecosystem really shine is the ability to use the same show file on any console in the dLive family. The engine is the same in all models. It truly doesn't matter which surface is connected. It's reassuring to know there's no tricky file conversion when switching surfaces.
'With other consoles, you lose data when you convert your file from one console to another – sometimes you lose entire banks of channels and have to use workarounds to get them back. With dLive, I don't have to worry about that any more.
'I'm a studio mixer as well, and I recently re-mixed a live show recorded on the dLive. Normally I can beat my board mix with a few simple tweaks, but I've gotta say, I was actually having a difficult time beating my own board mix from the show. That reinforces to me how great this console sounds.'
Taking the grooves down a few BPM from the hyper-funk, Khruangbin brought their chilled out and otherworldly musical styles to the Fort Adams crowd via compact dLive rigs as well. Opting to go with the C1500 at monitors, Khruangbin also tapped a CDM32 MixRack, a gigaAce card for a digital split to FOH, a Waves 3 card and Waves Impact Server for additional outboard effects, and Shure PSM1000 IEMs.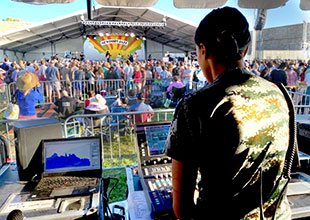 Using the Allen & Heath gigaAce protocol for interconnect, a CTi1500 rig was put to use on the other end of the digital snake at FOH. Just as with Cory Wong, the Waves 3 card for virtual soundcheck and superMadi for broadcast card combination was loaded into the (DM0) MixRack, this time joined by an additional gigaAce card and two DX168 16 XLR input/8 XLR output 96kHz Portable DX Expanders.
'My CTi1500 had its outdoor concert debut at Newport Jazz,' notes Khruangbin FOH engineer, Jade Payne. 'In typical festival fashion, there was no room in the schedule for a soundcheck. However, we were able to run our line check backstage before changeover. This gave me plenty of time to run virtual soundcheck through my IEMs at FOH, make minor adjustments for the set list, final mix preparations, etc. I was ready to go with plenty of time to enjoy a lobster roll.
'The festival is situated on a peninsula – with high winds – which I worried would affect the PA response. But MSI did an excellent job with their system deployment and dLive's fidelity rang through for a successful show. The only real issue I've run into with the CTi is that stage hands frequently think the case is empty and try to strike it before I've taken the console out.'
'Newport as one of the first festivals coming back live from the pandemic was really cool to work,' says Khruangbin monitor engineer, Jorge Pardo-Denning. 'We had rehearsals before to be prepared and we carry our own consoles as that helps a lot – especially doing virtual soundcheck. It was a success and a great "welcome back" to shows.'
Lauded for her portrayal of Billie Holiday in the 2021 biopic The United States vs Billie Holiday, Golden Globe winning Andra Day closed the final day of the festival with renditions of Lady Day jazz classics. Her set was mixed by FOH engineer Caleb Morris via a CTi1500 and DM0 MixRack.
'It was such a great vibe this year,' notes Allen & Heath USA Live Sound & Touring Manager, Mike Bangs. 'I had the pleasure of hanging with fellow engineers and a few trends started to show up out there. First off, a lot of engineers are a bit reluctant when they think about doing their shows with only 12 faders. But the C1500 and CTi1500 floodgates have opened recently as folks are starting to get back to touring and travel budgets and options are even more restrained. Some engineers are finding that they prefer the focused form factor and fader count. Creative spill group and layer design is important with high channel counts, but with a ton of soft keys and scene recallable workflow changes, I have gone over 80 channels on a CTi and navigation was a breeze.
'The second recurring theme was a sort of "cake and eat it, too" about the tiny console footprint. There are other sorts of ways you can tackle putting together a hodgepodge of small surfaces and laptops and consumer gear to make what kinda looks like a mixing console. You can gain the compact-and-lightweight benefits by going that route, but you have to sacrifice road-worthiness and the peace of mind that the rig has been designed for the rigors of the road. Folks are stoked that CTi has that cool combination of compact and tough without sacrificing anything along the way. Small is the new big thing.'
Founded by George Wein (who also founded the Newport Folk Festival), the Newport Jazz Festival is presently lining up artists for its 2022 outing in July.
See also:
The Last Seat in the House (The Story of Hanley Sound)