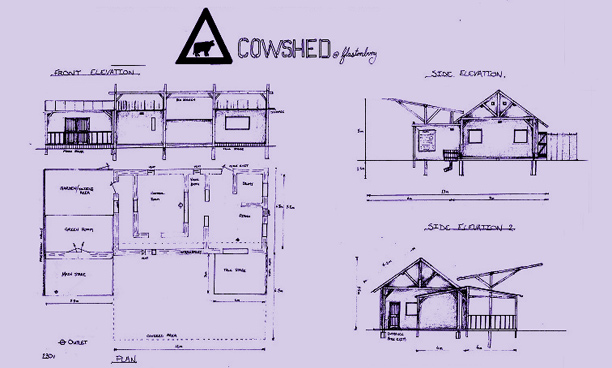 A recording studio made out of wood and straw is to be set up at Glastonbury 2011.
Accompanying the five days of music – which will include headline acts U2, Coldplay, Beyoncé, Elbow and Morrissey – the studio is the work of music producer Joe Leach of Cowshed Studio London, who is designing and building a soundproof studio in a custom built low-impact straw bale building in the festival grounds.
Central to the Glastonbury Cowshed studio is an Audient ASP8024 mixing desk, which will be used alongside the Cowshed Studio's classic keyboard collection, grand piano, vintage mics and preamps, in what is believed to be a first for Glastonbury, offering attending musicians the opportunity to record with a professional producer.
The venture – named Raising Voices – was conceived by Cowshed's Joe Leach and Greenpeace 'to provide practical insight into all aspects of the recording process, from song writing and arrangement through to final production, allowing aspiring performers and up-and-coming producers to hone their skills.'
'Just about all of us, one way or another, are fed up with the status quo and one of our most effective communication tools – music – has been failing to reflect this adequately,' says Leach. 'We're calling on all left-field artists, musicians, writers; everyone who opposes exploitation, destruction, corruption, manipulation and fraud – stuff that has become staple fodder of the increasingly half-baked media reporting we routinely ignore. Raising Voices aims to use the uniquely positive environment that is Glastonbury to build momentum around the protest song.'
'We love the idea, so we're really glad to be able to provide the console for this unique studio,' says Audient Technology Strategist, Steve Flower, who will be part of the set-up crew with his colleague, UK sales manager Gareth Williams. 'We want to give the event our full support, and to that end will be tweeting our way through the set-up and ensuing weekend.'
The complex will include a green room and two live stage areas. Theses stages will be available to new and established artists visiting the festival, both to play and to participate in song-writing workshops. Musicians will be invited to perform on these stages allowing eight acts a day to be chosen by public vote to record in the studio. Sessions will be video streamed live to a large projection screen, providing a rare insight into the recording process.
Pro audio specialist KMR Audio also provided equipment for the project, which included and Endless Analog Clasp tape system running wth and Avid Pro Tools HD3 Rig. Outboard included a Neve 33609JD Stereo Compressor, AnaMod, AM670 Stereo Fairchild Limiter, ADL CL1000 Mono Tracking Compressor, Manley Massive Passive Stereo EQ, API Lunchbox (with two 560s, two 550As and a Shadow Hills Optograph) and a Lexicon PCM96. Among the mics were a Peluso 2247LE and two ShinyBox 46MX ribbon mics.
More: www.cowshedstudio.com
More: www.audient.com
More: www.kmraudio.com