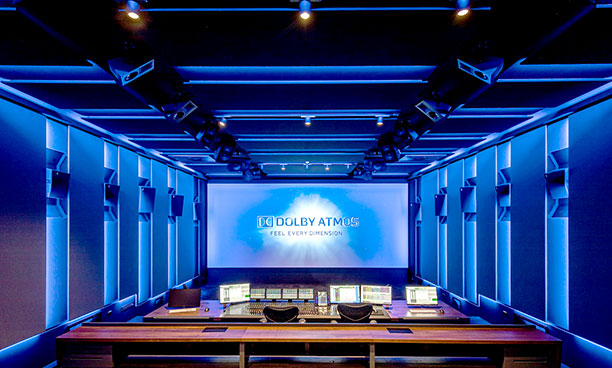 A three-year renovation at Amsterdam's STMPD has seen the total number of its studios increased to eight, including a 135m2 Dolby Atmos Premier Studio where an Alcons pro-ribbon loudspeaker system serves commercial immersive work.
With just nine Dolby Atmos Premier studios in the world and only two others in Europe, STMPD joins an exclusive club. Describing itself as 'the ultimate playground for music and audio postproduction', the former FC Walvisch studio has hosted artists including Big Sean, One Republic, Yungblud, Young Thug, Drea Dury, David Guetta and DJ/producer Martin Garrix – an it was Garrix's acquisition of the complex in 2017 that prompted the refurbishment.
STMPD Studios Senior Sound Designer Eelco Bakker, sound supervisor/re-recording engineer Herman Pieëte, and Studio Manager Helena Bouscher worked with UK-based Mill Road Technology (MRT) as consultant on the design for the mix stage.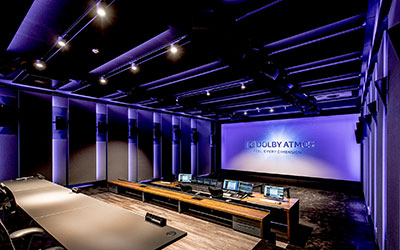 'For the mix stage, we were aiming for the best possible result and critically auditioned every high-end system on the market,' Bakker says. 'We believe that for the future of cinema sound, in which everything will evolve around immersive technologies, the highest definition is of the utmost importance.'
It quickly became clear to MRT's Laurence Claydon that the space was perfectly proportioned to meet the exacting standards of a Dolby Atmos Premier Studio. 'STMPD was also uniquely placed to serve the market – not only for original language theatrical mixing, dubbing and localisation, but also for high-end immersive mixing of original content for home entertainment platforms and, importantly, immersive music mixing,' he says. 'There was clearly an opportunity to do something really special and we worked with STMPD's acousticians, Pinna Acoustics, to achieve the highest quality monitoring in the best acoustic environment.'
Bakker had first used Alcons pro-ribbon systems in 2012, on a multi-screen 3D art installation with Dutch film director Jan de Bont (Basic Instinct, Lara Croft Tomb Raider, Die Hard, Speed). 'Since then I have visited Alcons demonstrations at the ISE trade show, which always impressed me,' he says. 'I also worked on a production with Alcons' V-series versatile monitors in a live sound reinforcement situation, which confirmed my positive impressions of the recording, mixing and reinforcement qualities of Alcons audio solutions.'
Pieëte had also unknowingly experienced an Alcons installation at a Vue cinema, and was similarly impressed by the audio quality. 'When we did the listening tests with all the potential systems, Alcons was clearly the best sounding, with the most advanced technologies,' he says.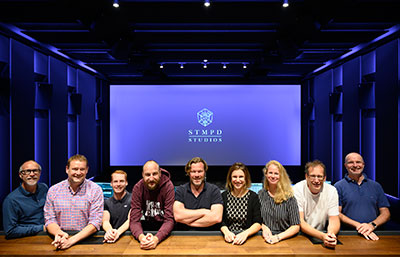 Supplied by cinema exhibition services specialists CinemaNext, the main screen system comprises five Alcons CR3 bi-amped medium-format screen system and four CB362 high-output twin 18-inch subwoofers. The base layer surround features ten CRS8/9040 medium-format reference surround and 12 CRS12/9040 large-format reference surrounds.
This is accompanied by a height layer surround of eight CRS8/9090 medium-format wideangle reference surround, four CRS12/9090 large-format wide angle reference surround and four further CRS12/9040. Low frequency extension is provided by four CB151sl compact shallow 15-inch subwoofer systems. The entire system is powered and controlled by ten Sentinel3 and four Sentinel10 four-channel amplified loudspeaker controllers.
This was the first application of the new, 90° x90° waveguide technology in the CRS8 and CRS12 pro-ribbon overhead surrounds, providing seamless coverage to the mix and client positions. 'The system can handle the most complex materials flawlessly and the reproduction is much more detailed than other systems, resulting in precision decision-making. You can mix at a truly microscopic level,' Bakker says. 'It allows us to work very analytically, without getting fatigued, but also much faster. Because you're hearing what you are doing much better, creative decisions can be taken more quickly.'
'We're hearing details in old mixes engineered on other stages that we'd never heard on those systems,' adds Herman. 'The transient response is unsurpassed and the localisation in an immersive mix is stunning, with truly seamless panning from speaker to speaker.
'There's always so much headroom, you never have the feeling the system limits low or high frequencies in any way. The response from visitors has been universally positive.'
With a client list that includes Netflix, ABC, CBS and a wide range of broadcasters, production companies and international advertising agencies, the Alcons pro-ribbon system is helping to establish STMPD recording studios' mix stage as a world-class facility.