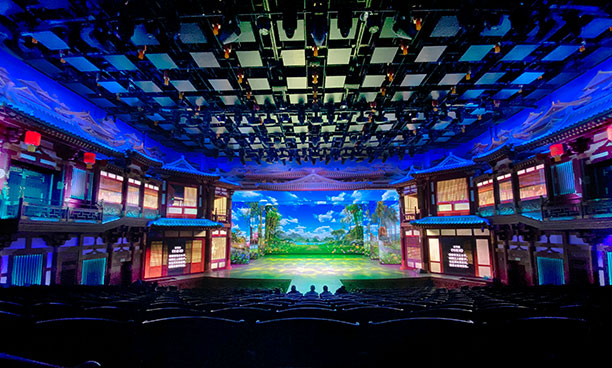 SE Audiotechnik's M-F3A Pro has been key to the success of an immersive production of Dream Back to the Tang Dynasty, staged at the Fengming Theatre – part of the Furong Garden theme park in the south of China's Xi'an City, Shaanxi Province. Sound designer Tian Chensheng wanted to create an immersive audio environment for the large-scale fantasy production, but without the technology on show.
Dream Back to the Tang Dynasty incorporates poetry, musical drama, and traditional song and dance in a production that immerses its audience in the story. The theatre itself integrated into the 180° video wall that creates much of the scenery, with 360° immersive audio to complete the audience experience.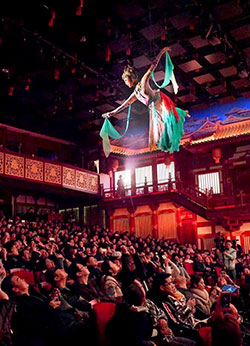 Integrating the technical lighting, video and audio solutions into the overall stage design proved to be a challenge for the team behind the production, but careful planning led by the assured their success. Inside the theatre, almost 300 loudspeakers have been concealed in various staging and structural elements around the venue to create the immersive sound system, with results that have been celebrated by every audience.
Tian explored the structural characteristics and the soundfield in the theatre, and decided that it would be possible to adopt an immersive solution. However, the 30-year industry veteran did not want to break the immersive environment by having large amounts of technology on show.
'In the selection of speakers, on the one hand we need to meet the sound effect requirements, but on the other hand, we have to hide the installation,' he explains. 'However, these two aspects are against each other. Hiding requires the box to be small, but the small size will reduce the sound pressure and the sound quality.'
To meet the challenge, Tian and the technical team researched various potential solutions before choosing the M-F3A Pro from German pro audio manufacturer, SE Audiotechnik. The small size and high SPL of this ultra-compact two-way active line array element with a unique hornless design was the perfect choice for the complex environment within the theatre.
Weighing 8.3kg, the enclosure houses eight 2.8-inch neodymium low/mid-frequency drivers and seven 1-inch direct radiation dome tweeters. With the 600W class-D amplifier and plug-and-play DSP housed inside the cabinet, it was possible to conceal a relatively large system throughout the venue.