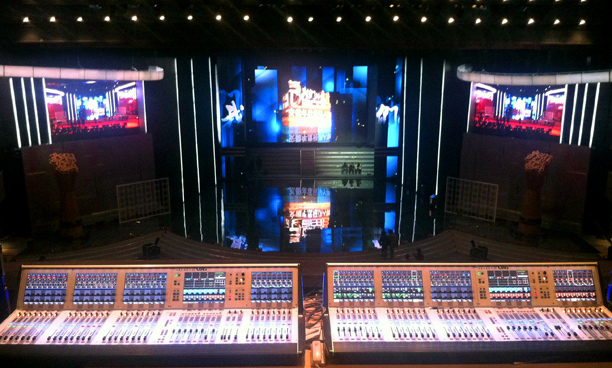 The TV Theater in China's Anhui Radio and Television Center is home to one of the largest and most advanced theatres in Asia. Serving a number of popular broadcasters – including Jiangsu Radio and Television Centre Studio – it was recently equipped with a Studer Vista 9 and two Soundcraft Vi6 digital consoles.
The two-level theater auditorium is capable of hosting 3,200 guests, and has been fitted out with Harman-brand systems by Advanced Communication Equipment (ACE).
Inside the TV Theater at the centre, the broadcast and live sound systems are divided into two areas. The Center uses its Vista 9 in the broadcast area and the two Vi6 consoles for live sound and mixing. The three mixers can work independently or as backups for each other, ensuring a reliable system. 'Keeping our system functional and safe is our number one priority, so having the capability of a redundant system keeps our productions online at all times,' says senior engineer, Li Guangyun.
The speaker system in the centre is divided into fixed and mobile sound and can be programmed according to any needs in the building. For fixed sound, Guangyun uses JBL AE 6200 and AE 5000 series loudspeakers, while 48 AC18's surround the audience. The mobile sound system features 16 JBL VerTec VT4888DPCN line array boxes. The fixed sound system also uses BSS London processing units and Crown I-Tech HD Digital amplifiers.
'Selecting the perfect equipment is a large task that we take very seriously,' says Guangyun. 'The Studer and Soundcraft consoles and JBL loudspeakers proved to be the perfect system for our needs. It's simply very convenient to operate and more importantly, offers a great sound.'