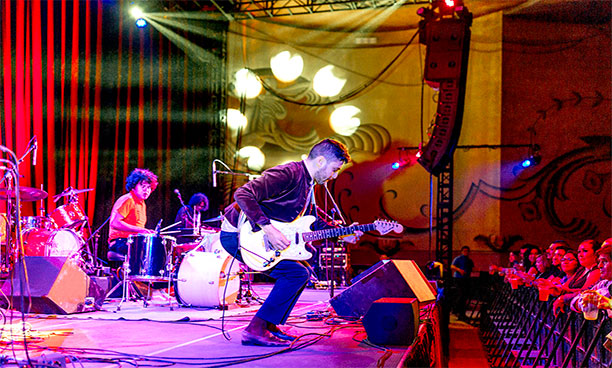 Set in the heart of downtown San Luis Obispo, the 865-seat Fremont Theater is a surviving – and now thriving – example of the Streamline Moderne style favoured by West Coast theatres when it opened to host both movies and performances in 1942. Evading attempts to repurpose it as a multiplex cinema or demolish it, a new group of partners, the Fremont Theater Entertainment Group, has invested in restoring its visual and acoustical charm while also modernising its technical facilities.
A key part of the initiative is the addition of an L-Acoustics Kara loudspeaker system, originally installed in 2018 and then re-flown with a new truss system installed earlier this year.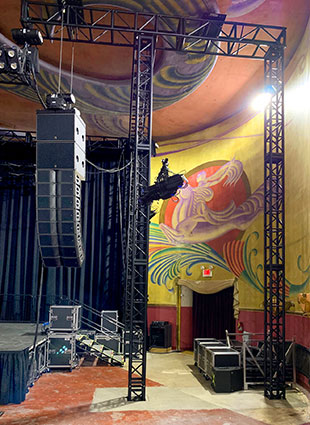 'We chose Kara because it fit the venue so well both sonically and physically,' explains Bill Gaines, owner of Bill Gaines Audio (BGA), who did the sound system design and installation – and is also one of the venue's six new partners. 'We knew that the original installation [which used a temporary telescoping-type system that was unable to support flown subs] was going to be replaced with a much more suitable aluminium truss, but we wanted to start having shows in the theatre as soon as possible. Once the new truss went in, we simply reinstalled the Kara system to it.'
Gaines notes that Kara was the perfect choice because its smaller form factor still provides the power and pattern control to put pure, clear SPL right on the audience area, keeping it off of the reflective surfaces in the venue. The present system comprises two arrays of eight Kara loudspeakers per side, each topped by a pair of SB18 subs. Four additional SB28 subs are groundstacked below, while two more SB18 are available as side fill or drum monitors, as needed.
Furthermore, two self-powered 108P speakers deliver stage lip fill to the front-most seats, while the rest of the system is powered via five LA8 and one LA4X amplified controllers.
'With its compact size, 110° coverage, and range down to 30Hz with the subs, Kara gave us the flexibility we needed to be able to use the theatre as soon as possible, build up our reputation, then let us quickly reconfigure the sound system when the new truss went in,' explains Gaines, whose company, BGA, purchased another two dozen Kara enclosures, eight SB18, and eight KS28 subs as part of becoming an L-Acoustics Certified Provider for rental (CPr) last year. Complementing those systems are Kiva II for lip/out fill use, SB28/ARCS II side fills, a generous quantity of 14 X15 HiQ stage wedges, and LA12X (in LA-Rak II) and LA8 amplified controllers to power everything.
Word is out that the Fremont Theater, is now the place to play in San Luis Obispo. 'The band engineers and artists coming in all love it,' says Gaines. 'On one of the first big shows with the new PA, the drummer came out front to listen as his drum tech tuned the kit, and he was all smiles. That's when we knew for sure that we got it right.'