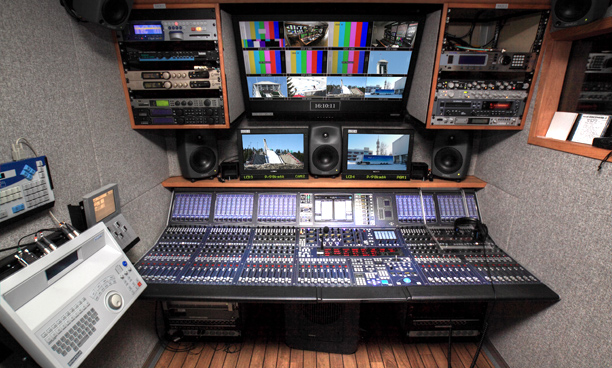 Finnish national broadcaster YLE took delivery of its new OB van in readiness for the Lahti Games, where the country's ski-jumping legend Janne Ahonen made his last-ever appearance.
Sony Broadcast had the van ready just in time for the 'must see' event, which was broadcast internationally with YLE acting as host broadcaster. Assigned to the Ski Jump arena in Salpausselkä, the U10 is equipped with a Lawo mc²66 console – and the first Lawo sapphire desk to be used in a mobile application.
The truck has two audio production areas. In the larger of the control rooms is a 24-8-16 Lawo mc²66 console and Genelec monitoring, while next door is a 16-fader sapphire desk. The consoles share common resources over an internal network, including six Dallis router frames, six 3G HD-SDI cards and 52 HD-SDI, intercom integration and centralised DSP flat-screen monitoring delay compensation.
There is one centralised audio routing resource for both production rooms, with capacity for around 8,000 crosspoints. It 192 DSP channels supports sub-matrixing, downmixing and summing, all within the network. All the 'noisy' equipment has been installed in a separate area, leaving the main production space and main audio control room clear and especially quiet.
'We were using quite a low channel count,' explains YLE Audio Supervisor, Pasi Vatunen, 'The challenge lay in the fact that we had a new truck, and we had to get to grips with it very quickly. Although everybody has been using Lawo consoles for about 10 years, YLE actually only has one mc²66 model so far, and this is installed in a studio. But we are all familiar with Lawo philosophy so it was quite easy for us to get up to speed, and we were helped by the mc²66 providing such a high degree of visual feedback.'
Vatunen and his OB team are the first to use the new sapphire console in a mobile – the desk was designed for radio, but has a very slim profile and streamlined wiring. 'We had very little space in our second control room, and the sapphire fits in very easily with just a power supply and one Ethernet cable,' he says. 'And it can be taken out just as easily. There are some differences in the layout of the console, but we have had very good experience with it so far. The engineers can send any audio source to the router, and any microphone from any of the three stageboxes can be linked to the Sapphire over Madi, controlling mic gain at the stagebox from the console.'
With the first big sporting event successfully completed, Vatunen can plan for the future: 'We have space for another Dallis card in the mc²66, and we'll add some extra SDI cards if we connect up on more EVS unit,' he reveals. 'And we may add another router card for more DSP in the sapphire. This is the best part of the Lawo design philosophy, that there is always the option for expansion at a future date.'
More: www.lawo.de