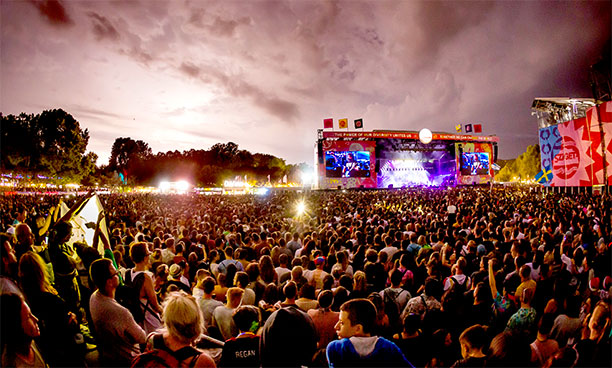 With Ed Sheeran's appearance setting new records for the annual seven-day-long Sziget Festival on Hajógyári Island, north of Budapest, long standing main stage sound reinforcement supplier Capital Sound brought in its Martin Audio MLA loudspeaker array family across Europe in a two-truck arrangement and 'topping up' with assistance from local MLA partner, BG Event. BG, in turn, provided its own Martin Audio inventory for two dedicated EDM dance stages.
'The event gets bigger every year which is why the PA spec has grown. We are consistently asked to upgrade it,' says Capital Head of Operations & Sales, Paul Timmins.
'This year, we made changes to the field delays on main stage and upgraded the subs to MLX,' adds Capital Account Manager Robin Conway. 'We had 48 MLX on the front end in 3x16 cardioid stacks with a further 4x3 cardioid stacks in the field, making 60 MLX in total.' This was the result of a request by long serving Hungarian audio crew chief and system designer, Marci Mezei.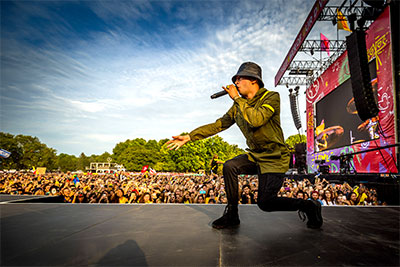 With a line-up that included the Foo Fighters, Ed Sheeran, Post Malone, Twenty One Pilots, The 1975, Martin Garrix, The National, Catfish and the Bottlemen and Years & Years, he was able to report a near universal thumbs up to MLA from the visiting sound engineers. 'MLA continues to improve with age, like a good red wine. Engineers were finishing their set and commenting that the PA appeared to sound better every time they play through it,' says Conway, who believes this is 'because of the firmware and systematic Display software upgrades'.
The main hangs consisted of 17 MLA and an MLD Downfill each side, with side hangs of 14 MLA and an MLD Downfill pointing out on each flank. The 48 MLX subs were evenly spaced in 16x3-high stacks, while Capital turned to the smaller MLA Compact for front fills, deploying 18 elements (six single enclosures placed on top of the subs, and 2x3-high stacks between the main and side PA on each side).
Two four-element MLA Compact were positioned behind the mix tower on either side as a shadow delay, while the four field delay positions (stage left and right) variously comprised six MLA, nine MLA, nine MLA and eight MLA – all supported by an MLD Downfill box and the three high MLX cardioid stack.
Much of the credit for the smooth running of the event goes to Marci Mezei, who in addition to being sound system designer, was the main link with production director, Dániel Benis. Capital was represented by Marty Beath (Monitor Tech) and Toby Donovan (System Tech/FOH Tech). Jason Baird provided further tech support for the main stage and from BG Event Gabor Bacskay-Mazsi was also part of the main stage tech crew, working closely with Mezei.
BG Event provided Martin Audio solutions for the Bacardí Party Arena and Samsung Colosseum stages. Both venues specialised in electronic dance music –ten W8L Longbow as main PA on each side, with additional W8LC and W8LM as out fill and delays further down the tent for Bacardí Arena. Subs comprised 30 WS218X.
BG Chief Technical Engineer Viktor Meszaros reported the difficulty of working in a circus big top where it was necessary to create acceptable sound coverage while excluding the bars in the centre of the arena: 'Also there was a sound limitation of 98dB as the festival takes place in the middle of the city and since this tent runs until 5am every day, it was important that we did not disturb the neighbours,' adds BG Event's Balázs Szentiványi.
Over at the Samsung Colosseum, shaped like the ancient Colosseum in Rome, BG Event fielded six MLA Compact and four MLA Mini (in fill) each side (with further MLA Compact as delays). The DJ monitors consisted of a pair of the mighty XE500 driven by Martin Audio's powerful iK42 amps, and subs comprised six WS218 and four W8LS.
Szentiványi explained that the Colosseum was a difficult venue, as being open air, it took all the technicians' skill in programming the optimisations in Display to avoid possible sound leakage at the rear: 'The difficulty was that while this was in-the-round, the PA was set up as an LR system. Subs were set behind the canopy cover that formed part of the design to help deaden them. The almost entirely techno presentation is a very sub-heavy genre, and we had to strike a balance between what the audience and festival organisers expected.'
'In the 14-15 years that I have been coming out here, this was the smoothest it's ever been,' Timmins says. 'It really works well having a local MLA partner. Sziget is always demanding, and it's particularly tough with the heat, but we experienced zero equipment issues. For a week like this, to be able to say there were no technical issues to report is unbelievable.'
See also:
Timax makes space at Szeged Sabadteri festival
More: www.martin-audio.com