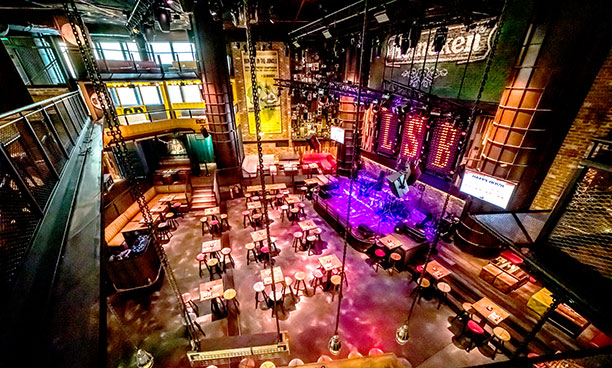 Located in Dubai's Jumeirah Beach Residence (JBR) community, the Rixos Premium Hotel has recently installed an extensive audio system from Pulse Middle East to serve live music and regular DJ sets. Key to the install are TW Audio loudspeakers and amplifiers from Powersoft.
The project covers five of the hotel's outlets, including the lavish Azure Beach Club, Black Tap Craft Burgers and Shakes and Luigia Italian restaurant, which are all operated by Sunset Hospitality. The remaining venues – Lock, Stock and Barrell (LSB) and STK Steakhouse – are operated by Solutions Leisure. With bands performing live on Mondays, Wednesdays and Fridays and DJs on other evenings, the audio system is configured to cater for both.
The TW Audio system is powered by Powersoft Quattrocanali and X Series amplifier platforms – seven Quattrocanali 4804 DSP+D serve the smaller 8-inch M8 and 10-inch M10 speakers distributed in the areas further from the stage, in addition to ceiling speakers in the toilets. Three X8 amplifiers drive the main band PA, which comprises a pair of T24 tops with four B18 subwoofers, additional B18 and B15 subs set around the venue, with T20s for out fill. A further five C15 stage monitors with a B15 sub are powered by a portable rack of two Dante-enabled Quattrocanali 4804 DSP+D amps.
Pulse opted to install a redundant Dante infrastructure at LSB with processing and control from BSS Blu-100 processors with BSS Blu-DANs, so even if one of the devices were to fail the system would automatically switch over to the second set of devices. It took a total of four Ottocanali 12K4 DSP+D to drive the TW Audio M8s, B17s and B10s installed at STK, while a wall-mounted controller at the DJ position provides zone control. 'There were some quite long cable runs in the end at LSB, so the damping control on the Powersoft amps really helped to ensure that the subs were sounding consistent all around the venue, by compensating for these,' says Pulse Middle East Head of Audio, Andrew Morris.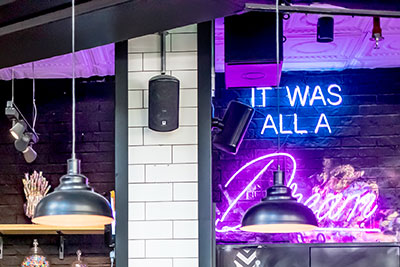 To ensure the background music at popular food spot Luigia was up to the high standard set by the venue's chefs, Pulse fitted the restaurant with a Quattrocanali 4804 and a Duecanali 1604 to drive the Turbosound TCI52 and TCS110B loudspeakers installed there. An identical set-up was specified for Black Tap.
'Black Tap and Luigia both use an external DSP, the DM8000 from Klark Teknik, for signal processing, and have few zones. In order to meet the budget, non-DSP amps were used and all processing was done inside the DM8000,' Morris says.
The Azure Beach Club required five Quattrocanali 2404 DSP+D, with BSS Blu-100 and Blu-Dan audio processing, to support more than 30 Turbosound TCI52 cabinets distributed around the pool and beach area, while four Martin Audio CDD12-WR and two Martin Audio CDD8-WR were installed for extra volume and low-end support around the pool and pool bar.
Pulse regards the use of Dante and Powersoft amplification as essential for all of the venues: 'Primarily the power-to-size ratio, as we were severely limited in the amount of rack space available at all five of the outlets,' Morris says. 'The ability to fit so much power and so many channels in such a small space was a huge advantage.
'Furthermore, in STK, the simplicity of the Dante redundancy on the Ottocanali meant that this system could be used confidently without regular monitoring. In LSB, power sharing allowed us to put different types of speaker on the same amplifier, ensuring that power and channels were not wasted, and that the entire system is being used to its full potential.
'Powersoft ArmoníaPlus System Manager was used extensively during the setting up and tuning phases. Interactive tuning was very helpful in this stage, as we had lots of work going on around us, so the ability to take a few measurements then make calculated adjustments based on those without having to keep re-measuring was invaluable and saved a lot of time and headaches from the other contractors on-site.'
'I'm really happy with the quality of the sound we have here, and it's very easy to manage the system for different types of events we host,' says Azure Operations Manager, Raphael Cardoso. 'We can also split the audio, so I can play music in the lounge, but something different in the restaurant and we do this a lot for events, and it's really simple to tailor this to our needs.'
'Pulse has always maintained a very high level of service and it was nothing but perfect throughout the whole process,' says Solutions Leisure's Bengan Hovgard. 'We are very satisfied with the systems in our venues, they are all perfectly tuned and no need whatsoever for any input from us.'
'Both clients have been very happy with the end-result of our projects, which is why we keep getting invited back for more installations,' Morris adds. 'We are already back at the hotel outfitting a new lounge bar opening shortly.'
More: www.powersoft.com