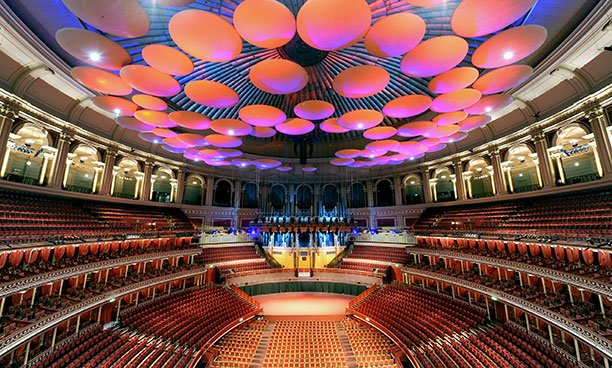 London's Royal Albert Hall has completed the biggest improvement to sound in its auditorium since the installation of the 'acoustic mushrooms' 50 years ago. Costing in excess of £2m, the project took 693 days of labour, 15,291m of cable, and 465 individual speakers, and has resulted in the world's largest loudspeaker install in a single room.
With equipment supplied by Autograph Sales & Installations and installed by SFL, the installation's digital distribution network adopted a ring topology and the selection of multi-format I/O cards included analogue, AES, ANA, DMI Optocore and DMI Dante.
A pair of BroaMan Route66 Optocore AutoRouters, managing Optocore links from the DiGiCo desk environment were specified as central routers, and a redundant subsidiary star network caters for the large number of patch panels distributed around the venue to the system's d&b audiotechnik loudspeakers. Compatible with Optocore and DiGiCo fibre loops, the functionality of the AutoRouter on the Route 66 makes it well suited to large installations such as this where there are multiple connection points.
As a Grade I listed building, the Royal Albert Hall required special building consent and had to work within the fabric of the Victorian venue on sound system proposal. The project drew on the most detailed acoustic surveys and modelling ever undertaken in the Hall, courtesy of leading acousticians Sandy Brown, and groundbreaking installation methods.
The new system also features the first ever circle, gallery and box speakers, bringing the sound closer to all seats, radically improving levels, tone, and clarity for every seat in the house, meaning sound quality is now equal throughout the venue for the wide range of programmes hosted, from boxing to ballet and everything in between.
'This investment is about more than just updating the sound system, it's about future-proofing the building as we approach our 150th anniversary in 2021, so that it is fit for another 150 years,' says Craig Hassall, Chief Executive of the Royal Albert Hall.
None of the several hundred shows that took place during the installation period were cancelled or affected, thanks to an overnight engineering work schedule carried out by SFL.
See also: