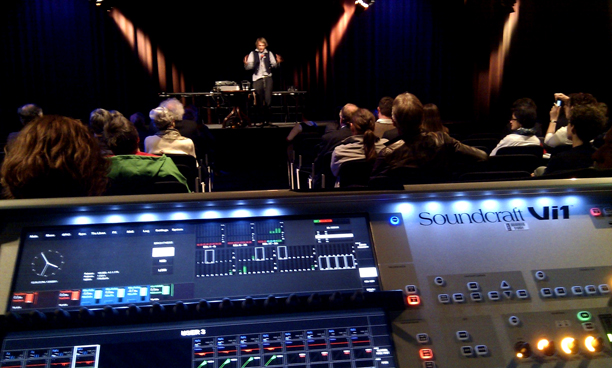 National public service broadcaster Österreichischer Rundfunk has taken two Soundcraft Vi1 digital consoles for live broadcasting, FOH mixing and recording in the Innsbruck/Tirol region.
One of the compact Vi1 desks will be for portable use while the other will be permanently installed in the Innsbruck broadcasting hall for FOH and recording using RME Madi cards and M-16 DA extension.
'We considered price, size, quality and ease of use,' says ORF tonmeister Jürgen Brunner, who admits that the broadcaster's old set-up was desperately in need of upgrading.
'We concluded that the Vi1 was the best concept for us, very easy to use, with the Widescreen Vistonics interface, and with no quality limitations.
'The internal filters sounded excellent as did the graphic EQ, and it offers good flexibility, with external Stagebox, Madi option and offline editor – all packaged into a really good price. With a digital console like the Vi1 there is no need to pick up dozens of graphic EQs or other external effects.'
While the desk's footprint had been one of the overriding criteria, ORF also needed the ability to save and recall different shows with different cues – and to handle everything over a WLAN network in the future. After its first outing – broadcasting a live folk music show from the centre of a ski resort, 2,200m above sea level — Jürgen Brunner felt the decision had been justified. 'The Vi1 is exactly the right console for the things we need,' he says. 'It's very easy to use and to configure, and it sounds great.'
This is not the Austrian broadcasters' first experience with the Soundcraft platform, since it runs three analogue consoles in the FÜ25 (small Video OB trucks), and ORF is now dipping further into the manufacturer's catalogue with new Compact Stageboxes for its mobile Vi1 and the new Soundcraft Si Compact, which it also has on order.
The purchase was made through Soundcraft's Austrian distributor, Kain Audio by Landesstudio Tirol, one of nine regional studios operating under the ORF umbrella, after carrying out extensive tests against other brands.
More: www.soundcraft.com