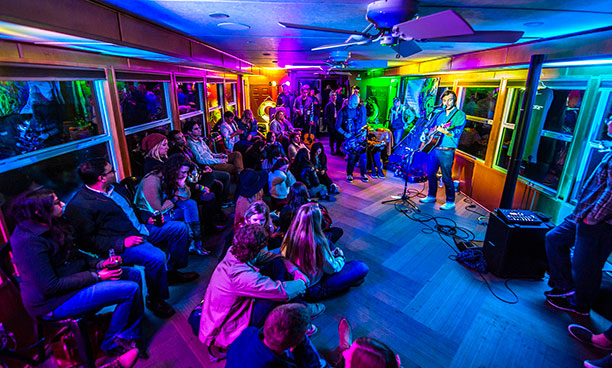 Demonstrating that there is more to Nashville than country music, singer-songwriter and indie entrepreneur Jamie Kent staged the New Nashville Live Riverboat Showcase at the recent SXSW in Austin.
The paddle-wheeled boat sailedon the Colorado River with a diverse array of music artists including Sarah Potenza, Banditos, Szlachetka, LUTHI, Mando Saenz and Willie Jones. For sound, Kent used Bose portable sound systems for the two three-hour cruises – two Bose F1 Model 812 Flexible Array Loudspeakers with an F1 sub, two L1 Compact systems as fill, and two S1 Pro loudspeakers as monitors for the stage on the boat's main deck, with an L1 Model II system for the acoustic stage one deck below.
'The music on New Nashville Live is everything but country, though we also had a hip-hop/country fusion artist this year,' says Kent, who uses a variety of Bose systems for the New Nashville Live experiences he produces within larger music festivals around the country.
'In Nashville, everyone knows how diverse the music scene is there, but the rest of the country is curious about that, and many of those artists deserve to be on a more national stage. New Nashville Live is designed to do that, and Bose has been a supporter of that since we began two years ago. I've been using Bose systems live for five years now, and nothing compares. And for New Nashville Live, Bose is the only system that gives us the flexibility and the power we need for different kinds of venues, but also lets us keep the performances intimate and up-close without blowing audiences away.'
Other artists on the cruise were equally enthusiastic about the sound: 'I have a Bose L1 system myself, and I absolutely love it,' says Sarah Potenza, a Nashville resident who Rolling Stone described in its SXSW coverage as a 'soul powerhouse' and one of the 30 best artists being showcased in Austin.
'I have this huge voice, and what I love about Bose is that it can take it as loud as I can give it, but it also lets me get quiet and emotional. Bose takes it and sends it back! And when I'm out touring with my own Bose system, I know I can set it up so that it's my PA and my monitor system, because of its feedback-eliminating effect. So I know that what I'm hearing on stage is the same thing the audience is hearing. I hate it when it sounds great on stage but they come up to you later and say they couldn't understand the lyrics. That never happens with Bose.'
Singer-songwriter Szlachetka has been using Bose sound systems for a decade, travelling with the L1 Model II and S1 Pro systems (along with plenty of separate experience performing through F1 Model 812 systems), so he too was very happy to find Bose set up on the New Nashville cruise stage. 'I do 150 to 200 shows a year, and I've used pretty much every Bose sound system there is, and they're all amazing,' he says. 'Because Bose has virtually eliminated feedback problems, you can perform without any monitors on stage. That allows you to have a much more direct and intimate connection with the audience. And the stage just looks better without all that clutter on it. Bose is great sound, but it's so much more than that, too.'
Kent is already planning next year's New Nashville Live Riverboat Showcase, and Bose will be back with it. 'We had 5,000 RSVPs for 120 spots on each cruise this year, so next year we may do multiple days as well as multiple cruises and shows,' says Kent. 'And of course it'll be sound by Bose. That's the only way to do it.'
See also:
Allen & Heath plays SXSW British Music Embassy