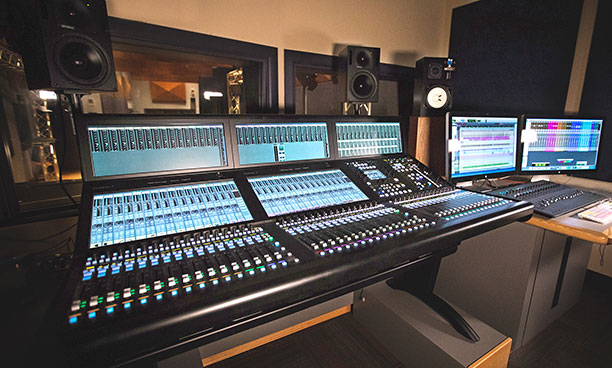 University of Pennsylvania public radio station WXPN – home of the nationally syndicated World Café music show – has installed a Solid State Logic System T audio production environment. Audio sessions and more are now recorded via a SSL S500 control surface coupled to a 256-path T25 Processor Engine as part of the station's mission to further connect artists to audiences.
'We wanted an SSL,' says Director of Engineering, Jared Styles. 'We wanted to be able to offer the world-class acts we host all that SSL represents, as well as allowing students and budding audio mixers the opportunity to work with the latest technology from a forward thinking, service-oriented company with the legacy of shaping a standard of classic excellence.'
The station plays a wide range of contemporary popular music, as well as producing the World Cafe, a daily two-hour new music show featuring performances and interviews with a diverse mix of bands hosted by Talia Schlanger and distributed by NPR to around 600,000 listeners on 214 stations. 'We're a hybrid operation,' Styles explains. 'We don't function exactly like a studio, and we're not a live venue. As a broadcast facility, we do some studio-like things, and we work closely with a live venue.'
As a result, the System T is going to be driven hard in a number of ways and will see daily use recording bands, as well as working as a live broadcast console, being used for remote interviews, and acting as a default audio distribution point when required. Its impressive flexibility in operation is one of the things that Jared most admires about it.
'The System T gives us the ability to build a show on a console that can be changed according to need,' Styles says. 'If we need inputs only on the surface, we can show that surface. If we need inputs, FX sends, headphone routing and VCAs, we can make that surface. Anything we don't need, we can discard or move, all without having to stop down.'
One of the key attributes of the S500 is that it is fully configurable, and WXPN has specified its own one out to include 48 faders, two touchscreens, and a master section with optional meter bridge. 'Having a touchscreen as your primary interface is very convenient,' says World Cafe Production Director, Chris Williams. 'Virtually any task from EQ, comps, effects, etcetera to signal routing and layer management, all right there ready to tweak, drag and assign, is right at your fingertips. Also, there's an Automix function built right into every fader. This feature comes in very handy when we have six band members sitting around being interviewed at once.'
As well as the S500 control surface, the installation also includes a SBi16 Stagebox and a D64 in the Machine Room; a A16.D16 for Network I/O in the Central Room; and two SB32.24 Dante Analogue Stageboxes. The T25 processor Engine is fitted with two Dante HC I/O cards.
'Broadly speaking, our criteria were pretty simple: 32-to-48-fader surface, ease of use for operators of varying skill levels, robust I/O for all of our analogue and digital needs, great customer service, and of course it had to sound great,' Jared explains. 'When we finally narrowed it down to two consoles, we were surprised to see how close the two were in cost. As a public radio-based operation, we were pleased to find that our first choice was within budget.'
More: www.solidstatelogic.com