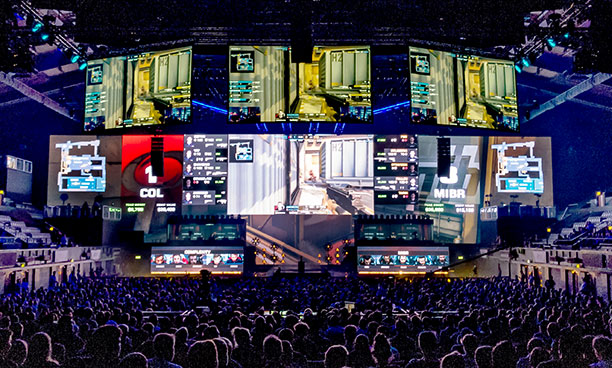 Billed as the UK's biggest esports tournament to date, CS:GO Major offers competitive gaming opportunities for players of all levels through a premium live event experience for top-level teams. Behind the occasion is FaceIt, the creator of the leading competitive online gaming platform and the Esports Championship Series (ECS).
'They are doing something really unique,' says Capital Sound Project Manager, Robin Conway. 'It has a tremendous outreach and there are millions of people around the world tuning in.' The final game of the event saw just over a million people tuning in, with over 61m hours viewed over the whole tournament.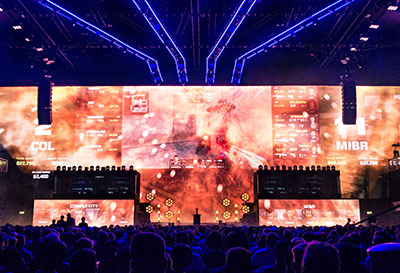 Capital Sound had won the tender for the ECS Season 5 finals, with Conway proposing Martin Audio's MLA loudspeaker array for the SSE Arena event in June, when the venue, reduced to half size for the preliminary round, was serviced by two single hangs of 11 MLA enclosures.
September saw FaceIt present the 13th CS:GO Major, the FaceIt Major, which saw the full arena filled for four days with online gaming enthusiasts all fixated on a 50m-wide screen and six repeater screens, so a different approach was needed. This time two hangs of 11 MLA elements (including two MLD Downfill boxes) were accompanied by eight MLX subwoofers arrayed across the front, with a DD12 Differential Dispersion loudspeaker stationed atop each of the sub enclosures to provide close fill.
Sibar Production & Design's Production Designer Simon Barrington has worked many times with MLA in the past, and it was easy to give a nod to a system that he knew would deliver a consistent frequency response across the entire room. 'It was important that everyone could hear both the game-play and the commentary,' Conway says. 'It was therefore vital that I provided all the predictions in my initial proposal document.'
Unlike a rock concert, the wings of the auditorium are set aside for game commentary and presenting, so no side-fill PA hangs are required, just delays. 'The installation also required some interesting cable routes – to get from the racks in the roof to the PA we had to go over the gantries,' Robin Conway continued. 'Being able to use a small diameter cable loom made it a lot easier. A single Socapex with Data and digital audio was a lot easier to manoeuvre than a loom of 4mm speaker cables in this regard.'
The proximity of the PA to the four commentary positions also needed to be taken into account by system tech Ben Turnbull when he tuned the system. 'With the PA position set so far back in view of the minimal stage, he had to zone the system carefully in order to get sufficient gain before feedback and keep the broadcast signal clean.'
Also part of the Capital team was crew chief, Micky Griffiths and monitor engineer Joseph Pearce. Meanwhile, Conway reports that the result had impressed all concerned, including Simon Barrington and FaceIt Director of Events, Ben Akroyd: 'I have had the pleasure of working with Capital on several music events over the years and they have never failed to deliver a highly professional but also very personable service. This is something I feel is very important in the stressful and tiring world of live events. Bringing them into the world of competitive computer gaming was an obvious step for me. I was very pleased that Robin specified the MLA system, which I have come to love. When space is at a premium it's a massive help, especially when the weight is nowhere near what you might expect such a powerful (and high quality) box to be.'
More: https://martin-audio.com