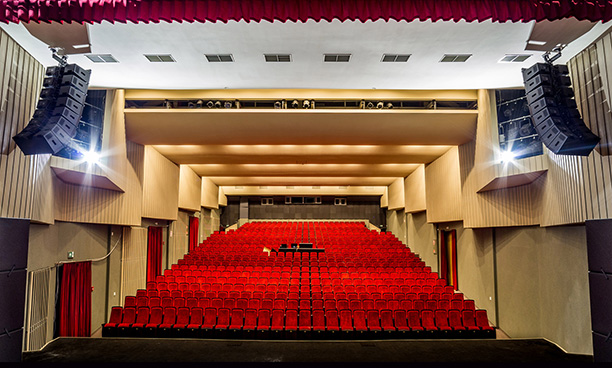 Lithuania's Jonava Cultural Centre recently completed the installation of a Martin Audio Wavefront Precision Compact (WPC) line array by local distributor, Audiotonas.
The venue is capable of seating almost 700 people, and hosts regular events including Midsummer Day (Joninės), Homo Ludens, national festivals of choirs, street musicians, children's pop choirs and others. The requirement for a good PA system was high. After surveying the site, Audiotonas' sound engineers, under the project management of Vytautas Stasiukaitis, considered that eight flown elements per side of the WPC array would provide the best solution because of its optimised coverage and outstanding overall performance.
The WPC is a new breed of optimised line array featuring scalable resolution. Dependent on the number of enclosures to amplifier channels, the system offers a scaled approach to coverage, consistency and control compared to a standard line array. For instance, an optimised two-box resolution (two enclosures to one amp channel), such as that now installed in the Jonava Cultural Centre, provides significantly improved audience coverage consistency over splay angles only, offering a compelling price and performance ratio. For low frequency extension Audiotonas specified 16 CSX118 subs in a cardioid configuration. 'These worked perfectly as we had almost no unwanted bass at the stage,' reports Audiotonas Director, Algis Sidiskis.
The system is powered by six iKon iK42 amplifiers. 'The two-box resolution sounded extremely good,' he confirms. 'Although the venue already had benefitted from acoustic treatment, Martin Audio WPC gave much more than we expected: we programmed 3dB deviation from front to back of the venue and it averaged 95dB during shows and concerts. Any unwanted reflections were perfectly controlled, as we had programmed in the Display software.'
Audiotonas' belief in the system was quickly validated by the venue itself: 'The first time I heard how impressive this Martin Audio system sounded I was pleasantly surprised,' reports Jonava Cultural Centre sound engineer, Valius Strakalaitis. 'The overall system intelligibility and consistency of coverage is just outstanding. I am very proud and delighted to be working with this system.'