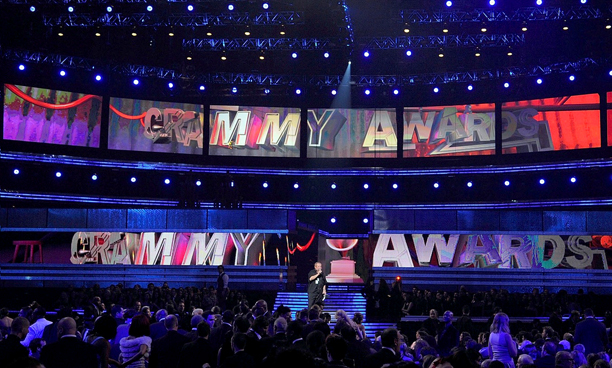 With news that Mumford & Sons' debut album
Sigh No More
hit No.2 on the Billboard 200 (up 99 per cent) following their Grammys performance, there can be little doubt as to the influence of the awards.
This year's Grammys also saw at least one return appearance, in the form of the JBL FOH loudspeaker system. Held at the Staples Center in Los Angeles, the awards were broadcast live in HDTV and 5.1 surround-sound on the CBS Television Network. Following their involvement in the event for several years, ATK Audiotek provided JBL VerTec line arrays for live sound reinforcement, while JBL LSR studio monitors were used in the critical listening room for the telecast.
For the live sound in the Staples Center, sound reinforcement provider ATK Audiotek deployed 70 JBL VerTec VT4889 line array elements in multiple overhead arrays, supplemented with JBL VRX932LA compact constant-curvature loudspeakers. 'With such a variety of performers on stage during the Awards, and with such elaborate productions, providing live sound for the Grammy Awards poses its own unique set of challenges,' said Scott Harmala, CTO/VP Engineering, ATK Audiotek. 'We have enjoyed tremendous success with the VerTec line arrays for the Grammy Awards in the past and this year was no different. They provided powerful and accurate sound throughout the arena.'
JBL LSR6300 Series studio monitors were also used for monitoring in the critical listening room for the CBS-TV television broadcast.
At the other end of the sound chain, AKG DMS700 wireless systems and corresponding D-series microphones took care of some of the key announcements – including the introductions of Ricky Martin and Miley Cyrus – to the live and viewing audience.
The systems were used bireless microphone specialist Soundtronics Wireless, and left Awards Audio Director, Michael Abbott happy: 'The AKG DMS700 system's digital transmitter delivered audio without the compander artifacts associated with most RF hand mics,' he said. 'In the RF-intensive environment of our live broadcast, the system operated extremely well. Our mix engineers were pleased with the smooth frequency response of the DHT700 and D7 handheld mics.'
'The AKG system and microphones performed very well and are great pieces of equipment,' said David Bellamy, owner of Soundtronics. 'We're still getting used to the system as we only debuted it at the Grammys, but the more I learn about it, the more I like it and the more I like it, the more I'll integrate it into our equipment rotation.'