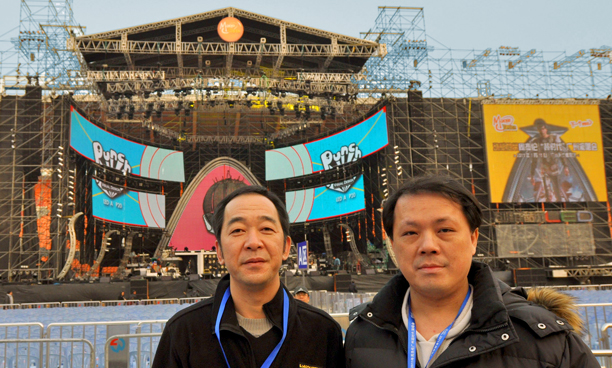 Welcoming the Chinese New Year, leading Taiwan artist Jay Chou performed at Tianhe Stadium in Guangzhou, to 30,000 fans.
The scale of the concert required one of Taiwan's biggest rental companies to handle the soundsystem – Reyn Yang Professional Sound – who took the opportunity to was use its new an L-Acoustics K1 WST system for the first time.
The system comprised two LR hangs of 12 K1s and three Kara elements for down fill flown below six K1-SBs, with two side arrays of 10 K1s beneath six K1-SBs for far field coverage at both sides of the stadium. It was driven by LA-Raks housing LA8 amplified controllers.
'This is a milestone and a revolution for the rental business in the Chinese market,' says Danny Lau, MD of RacPro, L-Acoustics' distributor for Taiwan and China. 'We look forward to seeing more and more rental companies paying such close attention to their sound systems.'
According to Mr Lau, Reyn Yang's owner Mr Liao appreciated the great performance from the K1 system. 'The system provided perfect coverage and unprecedented SPLs that he had never experienced when compared to their previous system,' he says.
Prior to the concert, L-Acoustics' certified trainer Paul van Baasbank carried out some training with K1 and SoundVision acoustic simulation software at the Tianhe Stadium. 'It was good to do the training at the place where their first concert with K1 would take place,' says van Baasbank. 'The team adapted very fast to the L-Acoustics design criteria. Their experience, skill and eagerness to learn new techniques made this a great training course.'
Jay Chou is a Taiwanese musician, singer, songwriter, music and film producer, actor and director, who has won the World Music Award four times. Although trained as a classical musician he fuses Chinese and Western styles to produce R&B, pop and rock, often with a political content. He stars in the newly-released film, The Green Hornet as kung fu expert Kato.