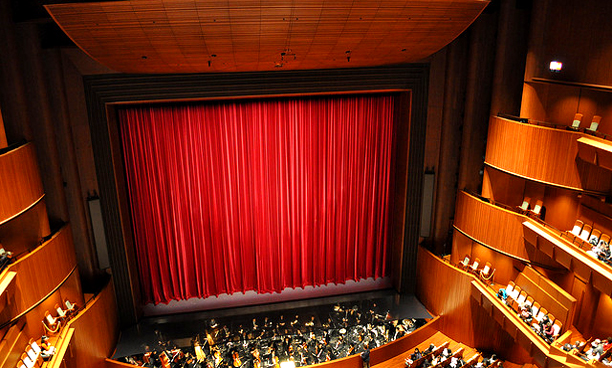 The New National Theatre Tokyo (NNTT) has installed Aviom's Personal Mixing System to accommodate the monitor needs of the operas, ballets, contemporary dance and dramas that are staged in its Opera House, Playhouse and The Pit theatres.
The quick and simple setup associated with the Aviom system allows the theater's technical crew to move the monitor mixing system easily between the three stages located at the venue. The day-to-day task of adjusting the audio set-up to match the needs of each performance and performing group requires flexibility and ease-of-use.
'The Aviom network is the ideal solution for our theatre,' says Hisashi Kurono of the NNTT Technical Department's sound and visual division. 'It is especially beneficial for our needs because the set-up and removal work is fast and uncomplicated.'
While this simplicity transfers to the various bands who perform at the theatre, some more ambitious stage sets require the orchestra to perform on opposite sides of the theatre. The Aviom system allows the NNTT to provide personal mixing to each of those bands.
The venue uses two set-ups for personal mixing. In one system, the audio signal is distributed directly through an AN-16/i-M Mic Input Module or through the console via an Aviom 16/o-Y1 A-Net card to an A-16D Pro A-Net Distributor that is connected to eight A-16II Personal Mixers. The second system is connected to the digital console through a Pro64 6416dio Digital I/O Module. This unit connects to an ASI A-Net Systems Interface which converts the Pro64 A-Net signal to a Pro16 one. From there the A-Net signal is routed to another 16 Aviom Personal Mixers.
'We rely on our Aviom network a great deal during every performance,' Kurono says. 'It is especially useful when an orchestra is divided and situated on both sides of the stage, and yet we choose not to use the monitor speaker due to sound localization.'
Originally constructed in 1997, NNTT uses the highest quality equipment. Aside from the regular performances, it can be used for young artist training programmes and offers theatre rental for outside performing groups as well as public presentations or conferences and student performances. Management of NNTT is commissioned to the New National Theatre Foundation through the independent administrative institution, The Japanese Arts Council.
More: www.aviom.com