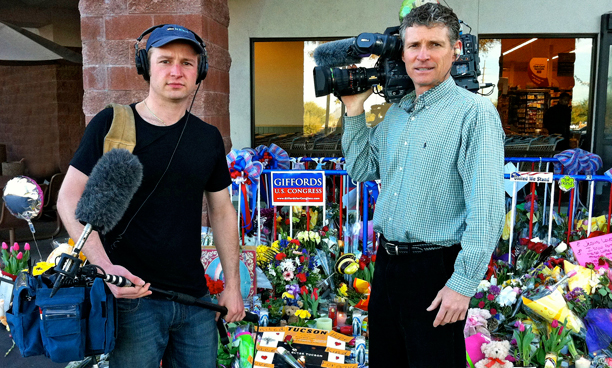 Working for major broadcast networks in the US and internationally, Carey P Moots is well aware of the 'mission critical' importance of audio-for-television field production. With many awards for photography, editing, producing and reporting under his belt, the seven-time Emmy Award recipient covers some of the most engaging stories in broadcast journalism.
Among them was a recent Dateline NBC episode: 'This was about a number of women who have gone missing in recent years,' he says. 'Several bodies have been discovered and there appears to be a serial killer involved. We used a [camera] jib and Lectrosonics SRa5 wireless mic system could not have been a better choice for this assignment.'
Moots has been a Lectrosonics user since the company's inception 40 years ago. Today he is using the SRa5 dual-channel slot mount ENG receiver coupled with SMQ and SMDa Super Miniature beltpack transmitters. Additionally, he has a UCR195D diversity receiver and a UM195B beltpack transmitter to round out his wireless equipment arsenal.
'We were conducting a number of standups using the jib and it was so nice not to run any cables down the jib arm from the camera to the sound mixer,' he continues. 'When the camera is moving around a lot, cables tend to create a variety of problems. The SRa5 mounted on the camera is a perfect setup as I'm not physically tethered to my sound technician – I work wirelessly between the mixer and the camera. Both channels were operating and we were able to shoot the standups without the limitations typically encountered with wires. The Lectrosonics gear worked flawlessly. There were no issues with audio on any of the takes.'
The SRa5 receiver and the SMQ and SMDa transmitters all use Lectrosonics' Digital Hybrid Wireless technology, which uses a proprietary algorithm to encode 24-bit digital audio information with no compression and low distortion into an analog format that can be transmitted in a robust manner over an analogue FM wireless link.
'The area was extremely congested with RF signals because there were literally hundreds of wireless systems in operation with all the news organizations on site,' Moots says. 'The ease with which the Lectrosonics gear scanned, identified and locked down available frequencies worked incredibly well. There were so many frustrated crews that were unable to use their wireless systems and, ultimately, resorted to using cables. By contrast, we literally did a frequency scan, found the open frequencies, and locked them in. It was so great to be able to use the Lectrosonics equipment in that kind of environment and have it perform so well.
'The freedom of movement that the SRa5 offers when working with a jib and the ability to quickly and easily identify open frequencies in a crowded RF environment are nothing short of terrific. You simply couldn't ask a piece of equipment to be more versatile.'
More: www.mootsproductions.com
More: www.lectrosonics.com