Reflecting changes in RF spectrum use, Shure has made its ULX-D and QLX-D wireless systems available in 1.5 and 1.8GHz versions. These comprise the Z17: 1492-1525MHz for European countries, indoor use, the Z18: 1785-1805MHz for European countries, the Z19: 1785-1800MHz for Australia, and the Z20: 1790-1805MHz for Taiwan.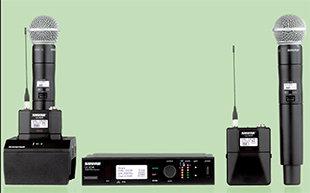 As the spectrum landscape evolves, Shure aims to serve as an industry advocate and information resource, to provide users with new options. These ULX-D and QLX-D products are designed to offer alternatives choices in the increasingly crowded UHF TV band.
The 1.5/1.8GHz systems and accessories have the same features and benefits that the ULX-D/QLX-D UHF systems offer, including spectrum efficiency, powerful recharging accessories, networking options, and rugged construction for everyday use. These digital wireless systems combine professional features with simplified setup and operation, offering transparent 24-bit digital audio, reliable RF performance, networked control, AES-256 encryption, and Dante digital audio (for ULXD4D and ULXD4Q dual and quad receivers).
'Our customers are using more wireless than ever before and available spectrum has become increasingly limited, so we've committed ourselves to providing spectrally-efficient solutions,' says Wireless Products Manager, Mu Yang. 'Shure has developed a robust portfolio of products that now support digital wireless systems in the 1.5 and 1.8GHZ spectrum. Professionals depend on these products for user-friendly features and reliable performance.'
A variety of new accessories are available for ULX-D and QLX-D in the 1.5/1.8GHz spectrum, including the UA844+ antenna distribution system, UA834 in-line amplifier, UA874 active directional antenna, UA221 passive antenna splitter, and the UA845UWB antenna distribution system (switchable for VHF, UHF, 1.2GHz, 1.5GHz, 1.8GHz).
The 1.5/1.8GHz ULX-D and QLX-D Digital Wireless versions will begin shipping in Q2 2017.
More: www.shure.com