Wireless audio and hearing assistance specialists Williams Sound has launched an updated range of infrared hearing assistance products, including three integrated transmitters for rooms of all sizes.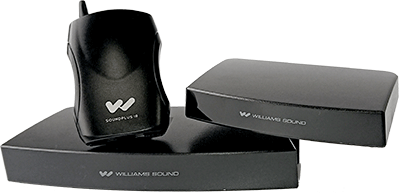 Infrared technology has been a popular method of audio transmission in courtrooms and other venues where privacy and security considerations have been important. It is, however, now the favoured assistive listening technology in many environments due to the high audio fidelity and ease of installing compared to alternative technologies such as induction loop.
The new ultra-compact IR T1 transmitter, with a coverage area of up to 120m², is ideal for huddle spaces and meeting rooms. The 5V micro USB power inlet allows the device to be powered from USB sockets on TVs or other devices, simplifying installation.
For larger spaces such as houses of worship and lecture theatres, the IR T2 transmitter can cover areas in excess of 1,600m². The IR T2 comes packaged with power supply and mounting kit for attaching to a wall or ceiling making ordering and installing the product simple. The largest auditoriums, theatres and cinemas are catered for with the WIR TX90 transmitter.
To maximise sensitivity and operating range, the WIR RX22-4N has a casing made from an innovative infrared transparent polymer that was pioneered by Williams Sound more than ten years ago. The receiver can be paired with a variety of earphones as well as a personal neck-worn induction loop for direct interfacing with T-coil equipped hearing aids.
The new range of products are backward-compatible with previous generations of Williams Sound infrared products allowing existing users to add to their existing systems.
Williams Sound is distributed in the UK and Ireland by CUK Audio.