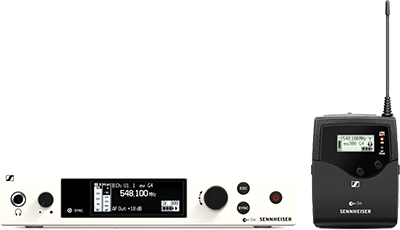 Sennheiser has released the evolution wireless 300 G4 series of wireless microphone systems, specially tailored to businesses and educational institutions.
'With the fourth generation of evolution wireless, our customers have more flexibility in difficult RF environments,' says Kai Tossing, Portfolio Manager for Business Communication. 'Thanks to a generously expanded switching bandwidth and higher RF output power, the ew 300 G4 series can be used to set up significantly larger systems with brilliantly stable day-to-day operation. The display, user interface and operating functionality have all been redesigned as well. Even with these many improvements, they still retain the attractive price points of G3, and also help preserve investments in past generations as the G4 is fully compatible with all previous series. This ensures that our customers can continue to use their existing equipment and older devices, while expanding their systems step by step.'
The ew 300 G4 series is specifically geared to enterprises, hotels, conference centres, schools and universities. The systems are available in various frequency ranges in the UHF band; the switching bandwidth has been increased from 42MHz to up to 88MHz (up to 32 channels). The three-stage switchable output power (10/30/50mW) increases the range of the transmitters, thus addressing more difficult RF conditions. All transmitters of the 300 series are equipped with mute switches to give the speaker control over transmission.
The 300 series includes a Vocal Set with handheld transmitter and MME 865 microphone head, a Lavalier Set with bodypack transmitter and ME 2-II clip-on microphone, a new Headmic Set with bodypack transmitter and the SL Headmic 1 – the professional neckband microphone for lectures and presentations.
Also new in the 300 series are Base Sets that can be used to cost-effectively expand or upgrade existing evolution wireless systems. These sets contain receiver and transmitter, but not the microphone or the microphone head, allowing for pre-existing accessories to be used in the upgraded system. The base sets are available with a handheld transmitter, bodypack transmitter or as a Combo Set with both options. Naturally, the receiver and the transmitter are also available separately.
Supporting evolution wireless is a wide range of accessories consisting of microphone heads, clip-on microphones and headset microphones, covering virtually every acoustic demand. The SL DI 4 XLR Dante interface is available for integration into Dante networks. For public address applications, the EM 300-500 G4 receivers can be integrated directly into the LSP 500 Pro wireless speaker system.
An integrated network port on the 300 Series receiver enables remote control of the microphone systems, either through the Wireless Systems Manager or the Sennheiser Control Cockpit software.
'With the availability of ew G4, we will also be releasing a new version of the Sennheiser Control Cockpit software,' Tossing says. 'With this software, wireless systems can be centrally controlled and monitored in real time, easily via a web browser on a smartphone, tablet or laptop. Sennheiser Control Cockpit is not only compatible with SpeechLine Digital Wireless, ew G3 and the new ew G4 systems, but also with the Digital 6000 series.'
evolution wireless G4 will be available from Q2 2018.
See also:
Control Cockpit update
More: www.sennheiser.com