Sennheiser has released a new version of its Control Cockpit software, which enables easier handling, maintenance and control of all wireless microphone solutions via web browser on smartphone, tablet and laptop. In addition to SpeechLine Digital Wireless, the new version of the Sennheiser Control Cockpit offers control of further microphone systems, which now includes the Digital 6000, and evolution wireless G3 and G4 series.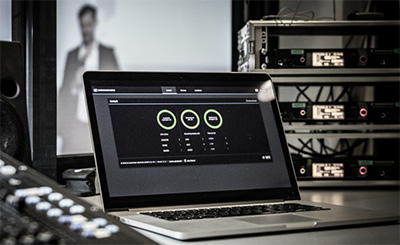 As a central control unit, Sennheiser Control Cockpit allows remote access to Sennheiser microphones in the network enabling real-time maintenance and control, including battery status and function of each device. From May 2018 it will also work with Sennheiser's Digital 6000, evolution wireless G3 and evolution wireless G4 series.
Interaction between hardware and software takes place in real-time and system changes of either individual or several microphones can be made remotely. Should a single microphone develop an issue, push messaging alerts the team member responsible who, in most cases, can address the situation from afar. This workflow optimization saves an organization time and money, while also improving the experience of employees.
Control Cockpit can be integrated in userss workflows to simplify daily routines with digital elements. As a result, users don't have to adapt to the system – the system seamlessly integrates with familiar workflows, accelerating and simplifying them with digital control capabilities.
Sennheiser Control Cockpit v2.0 will be available for download from May 2018
More: www.sennheiser.com