The dbx Di and CT line-up of test and utility boxes has been expanded with the Di4, Di1 and DJdi direct injection boxes, and CT3 and CT2 cable testing accessories.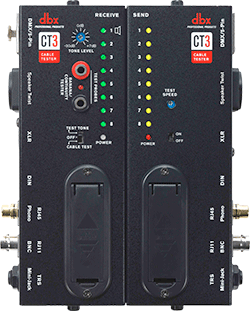 The Di4 four-channel direct box is a direct inject tool for audio applications, converting unbalanced signals into balanced output suitable for use with mixers, PA systems and recording consoles. The Di4 also functions as a multichannel stereo line mixer for connection of keyboards, samplers and modules into one unit via independent XLR balanced outputs to FOH and stage monitoring.
The dbx Di1 is a compact, high-quality active direct injection box that checks audio signals are balanced and free from noise. It features a Level and Impedance matching function, Signal Pass Through, Phantom Power, Ground Lift and 10Hz–70kHz (+0dB/-3dB) frequency response.
The two-channel passive DJdi offers two channels for converting unbalanced signals to a balanced output suitable for use with mixers, PAs and recording consoles. The DJdi's continuously variable input signal attenuator can accommodate a wide range of signal levels, and its passive design means clean operation with no power required.
The dbx CT3 is an advanced cable test unit allows evaluate of a large variety of cables. Its split design allows users to test the cable at the plug-in source saving time and potential confusion. The CT3 offers many common connectors such as RJ45, RJ11, MIDI, Speaker Twist, XLR, RCA Phono, BNC, DIN, TRS, TS, DMX and Banana.
The CT2 offers common connections (Speaker Twist, XLR, Phono, BNC, DIN, TRS, TS, DMX and Banana) for testing cables even with different connectors at each end. Well-illuminated LED indicators and a simple rotary dial allow for fast, easy use.
More:
www.dbxpro.com