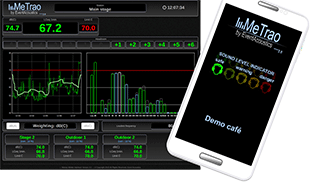 Event Acoustics has announced version the MeTrao intelligent network measurement system for temporary and permanent installations.
MeTrao 2.0 provides a quick and easy means of monitoring sound levels and obsering the increasingly strict regulations in effect. Experience gained from managing sound levels at large-scale Dutch and Belgian festivals, such as North Sea Jazz and Laundry Days, has enabled Event Acoustics to developed the system's features based on real-world challenges encountered.
'What is unique about our system is its level of sensitivity,' says Peter van der Greer, Senior Consultant for Event Acoustics. 'Today, it can highlight which stage of a multi-stage festival is causing a problem and in some cases what frequencies or combination of frequencies are causing the regulation noise levels of an event to be breached. This means any issue can be pinpointed and solved at the exact source, rather than changing the overall volume levels of all 20 stages.
'When we first got involved with Lowlands festival in 2009, the organiser had been trying to meet a reduction of the noise limit in the environment from 64dB(A) to 50dB(A) at 11pm by creating a 15 minute break and lowering the levels in all the tents. At the same time, the organiser wanted the dance tents louder. As soon as we came on board with MeTrao it was sorted – festival management were stood behind us watching and were in awe of how quickly we solved it.'
MeTrao can identify the frequency level of the problematic stage from up to a kilometre away, even at levels of up to 15dB below background level. It also has a multi sensor for measuring a range of other factors, including wind and compression, which mitigates the need for extensive control rooms full of different systems.
'The system is also an energy and money saving tool as it can even tell festival food vendors how much energy they're using, enabling them to adapt for the following year,' says van der Geer.
A further problem-solving feature of the MeTrao 2.0 is that it can aid communication between event engineers and project managers through its chat system. Messages are logged and change colour when acknowledged and responded to. This can help keep everything running smoothly on a networked system and ensures a number of different regulations are adhered to from one place.
This active control system not only works for events, but has been used in the city of Rotterdam to keep noise complaints to a minimum. Numerous city centre bars and clubs have purchased the MeTrao system to alert the DJ/venue manager when the noise is close to unacceptable levels so they can make the necessary adjustments. This has seen neighbourhood complaints reduced by a whopping 60 per cent in the past two years.