Available as a Pro Tools plug-in or a stand-alone version (with watch folder capability for automatic batch-normalisation of multiple audio files), TC Electronic's LCn loudness tool is available for stereo and 5.1 surround.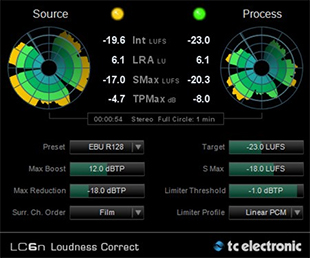 Where LC2n is the Pro Tools plug-in, LC6n runs on PC and Mac. The dedicated watch folder allows users to move audio files into a target folder for fast and easy loudness normalisation and true peak limiting. The new, normalised, file is automatically created in another user-defined destination folder, and the application can be set to automatically delete the original file or keep it in the watch folder. A 'traffic light' indicator shows whether or not a file is compliant with the standard chosen. Users may also paste multiple audio files into the watch folder, making the LCn a highly efficient loudness batch processor.
The watch folder also works across a networked system, so it can be installed on a central server, allowing audio files to be dragged to it from any computer on a network.
For true peak limiting, TC Electronic has made its Brickwall 2 True Peak Limiter an integrated part of LCn – complete with various true peak limiter profiles and linking functionality.
For broadcasters delivering to multiple platforms (HD TV and Mobile TV), different loudness targets are required. Typically -23/-24 LUFS and -16 LUFS for HD and mobile respectively, Brickwall 2 handles peaks to optimise audio quality for both standards.
LCn covers latest revision of the EBU R128 standard by adding a 'Short-Term Max Limit' feature – it is now possible to hit the loudness target and at the same time comply with the new S-Max goals of the EBU R128-2014 revision. This is essential for producers of short-duration content such as commercials and trailers.
During processing LCn shows two small Loudness Radar Meters, The meter on the left shows the loudness landscape over time (short-term loudness) of the original content, and as soon as the processing has been completed, the loudness landscape is shown on the right radar reflecting the new, loudness-normalised audio file.
LCn will be available in Q1 2015 through TC Electronic's dealers and distributors, as well through the TC Electronic online store.
More: www.tcelectronic.com/lcn