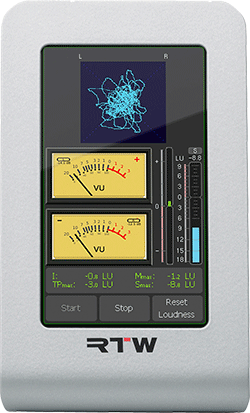 Since the Digital Production Partnership (DPP) loudness guidelines came into effect in the UK in October 2014, German meter manufacturer RTW has introduced three measures to make the delivery of 'in spec' loudness measurements more affordable.
The first is the new Smart range of meters, which offers additional functions, facilities and flexibility to the popular meters in the compact TM3 series and the dual-stereo TMR7. The ultra-compact TM3S is a six-channel meter with everything required for measuring loudness, including moving-coil emulation of broadcast PPM and loudness scales. A time-code reader displays time code from an external analogue or digital source. TM3-3GS has 16 audio channels of 3G-SDI with a maximum of eight displayed at once. It offers the loudness measurements required to comply with the DPP's specifications, and includes a 16-channel 3G-SDI de-embedder plus a monitoring controller with onscreen fader. The time-code reader decodes and displays external or SDI time code.
The four-channel TMR7S has two AES I/O ports, the full range of loudness measurement tools and a 7-inch screen.
RTW has also introduced a 'new meters for old' initiative. Anyone with an old audio meter can provide the details, whether it is working or not, to receive per cent off a new meter. The company is also offering low-cost loudness metering with the Loudness Tools Masterclass Plugin for Windows and Mac, and the TM3-Primus, which requires a single USB cable connection to a DAW or unbalanced analogue or digital audio connections.