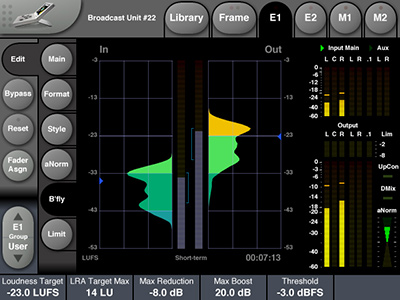 TC Electronic has announced aNorm, promising 'a new, original and highly innovative approach to loudness adjustment', and the Butterfly Meter, a new Loudness Processing Meter that is part of aNorm.
aNorm 'learns' an incoming audio programme on the fly and adapts to meet user-defined targets for Program Loudness and Loudness Range (LRA). Only if normalisation by itself is not enough to hit the Targets for Program Loudness and Loudness Range, will aNorm apply dynamic loudness processing.
The Butterfly Meter interface displays content pre- and post-loudness normalisation using a graph overview of how and why incoming audio is adjusted. Both the Program Loudness and Loudness Range parameters are represented visually.
Without proper attention to normalisation, the implementation of the EBU R128, TR-B32 and ATSC A/85 standards cannot be effective – aNorm is designed to provide a means for broadcasters to ensure audio is preserved as pure as 'humanly' as possible, from early production to breadcast.
The aNorm algorithm and Butterfly Meter are part of the new LoudnessWizard II license for TC Electronic's DB6 Broadcast Audio Processor. DB6 comes with the original LoudnessWizard that covers loudness correction, upconversion from stereo to 5.1, downconversion from 5.1 to stereo and lip sync delay. The new, optional LoudnessWizard II license applies the adaptive aNorm algorithm to handle loudness correction and processing metering, while still offering up/down-conversion and lip sync delay.
More:
www.tcelectronic.com