Prism Sound has released a package of new features for its dScope Series III audio analyser.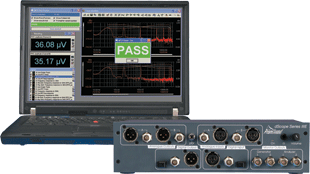 The new capabilities fall into two categories – improvements to the check-box test automation system known as Auto-Sequence and enhancements to soundcard test capabilities
The Auto-Sequence tool provides a simple way to set up and execute a series of tests and to produce reports in html and Microsoft Excel formats without having to write any code. This update provides an Edit Mode that makes sequence construction and adjustment even faster so that automated production line tests can quickly and easily be set up using the design engineer's test configurations as a starting point. For example, it is now possible to browse to an existing test configuration file and import it directly as a new step into the test sequence and to rename, copy, delete and re-order test steps.
Also included is a 'tweak' feature that enables a single parameter adjustment to be applied to several test steps automatically, avoiding the need for editing individual test configurations manually. For the Auto-Sequence update, a new Dialog (or Form) editor allows construction of pop-up forms for user interaction such as entering serial numbers and other information, confirming actions such as external test fixture or device adjustments or confirming observations of the equipment under test.
The new release of software adds the capability to support ASIO soundcard drivers as well as WDM, enabling a wide range of professional as well as consumer audio soundcards and interfaces to be tested. In addition, ASIO guarantees bit-perfect transfer between the host computer and the audio device – especially useful when testing the accuracy of the interface device.
dScope's Continuous Time Analyzer (CTA) is now available for use with soundcard inputs in addition to the FFT-based analysis previously provided for soundcards. dScope's FFT detector meters provide all the usual audio measurements – amplitude, noise, THD+n – but the CTA is a time-domain analysis process that mirrors the conventional notch filter plus voltmeter method commonly used in analogue instruments. The CTA is faster than the FFT analyser, especially when performing sweeps; it can make peak and quasi peak measurements and perhaps most importantly it can be used to detect occasional glitches such as sample errors. The CTA can measure inter-channel phase, important with computer interfaces where it is essential that all channels experience the same latency. The CTA can also generate an output trace so we can measure and plot the residual noise and distortion after the measurement filters to aid understanding of the composition of the noise and distortion components
Finally, the dScope scripting environment now provides support for serial port control on 64-bit Windows systems, enabling the control of external devices using RS232/422. This could be used to control external switching, DC power supplies or other equipment.
The new release will be available for download from the Prism Sound website in November 2013.
More: www.prismsound.com