TC Electronic's Broadcast 6000 is a version of its System 6000 MkII signal processing flagship that is optimised for broadcast production applications. The unit offers custon algorithms and supports live programme mixing for sports, game shows and live music.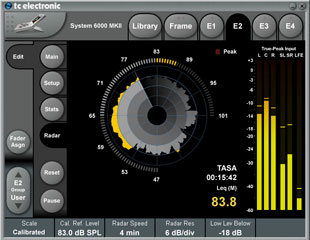 TC Electronic has also released its AM6 TASA Radar Meter for the System 6000 MkII platform, combining 'M' frequency weighting with an energy-integrated measure of sound (Leq). Levelling of commercials and trailers in movie theatres is typically based on this measure The AM6 radar combines an efficient means of visualising annoyance of stereo or 5.1 content over time, while the integrated Leq(M) number indicates the status of the entire trailer or commercial with regard to regulatory limits.
Upconversion and Downmix
are handled by TC Electronic's UnWrap HD algorithm for folding out a stereo or an LtRt signal to a credible 5.1 representation. UnWrap HD reckong to avoid compromising audio resolution or changing programme loudness.
The DMix algorithm, meanwhile, handles high-headroom downmixing from 5.1 to stereo on the fly. It is also capable of Target Level transcoding for lobile platforms in one, low latency pass.
Broadcast 6000 comes equipped with MD5.1 and MDX5.1 multiband, multichannel dynamics processing algorithms, covering high-resolution compression, DTX processing, limiter and expansion tools. It also includes Toolbox 5.1 with loudspeaker management and calibration functions for 5.1 production. Finally, the unit offers a 5.1 EQ and the Matrix 88 precision summing mixer with integrated 48-bit true-peak limiting.

More: www.tcelectronic.com