TSL Professional Products Ltd (PPL) has released the TouchMix Combo, integrating its TouchMix (AVM-T-Mix) and TouchMix Pilot systems to offer a high-level backup structure for main console failure in a larger facility, or as a standalone audio mixer in a smaller production situation.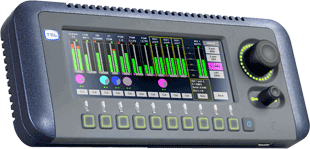 'The TouchMix Combo originated with the request of a client looking to ensure continuous audio performance should their main, on-air audio console fail,' says Martin Dyster, Head of Audio for TSL PPL. 'Following consultation with China's Shanghai Media Group, our engineering team combined the rackmount TouchMix with the desktop TouchMix Pilot, which meant that the rackmount unit could be used by the technical manager in the engine room to handle configuration, while the sound operator could cut in the channels using the desktop Touchmix Pilot if the main mixing console was lost. By listening to our customer, and then delivering the desired solution, we realised that a new and powerful production system had been created. So now, the TouchMix Combo is a part of our regular product line.'
Working in a master/slave relationship, TouchMix Combo offers enhanced workflow options for a broadcaster, including the ability to use it as a standalone audio mixer for a smaller facility. The main 'host' TouchMix unit comprises two 20-channel, line-level audio mixers, each configurable as a combination of assignable stereo, mono or surround input channels per mixer. The 22:9-aspect-ratio touchscreen front panel provides volume control, a dual-function gain/balance encoder, headphone socket, USB port, home preset save/recall switch and loudspeakers. The TouchMix Pilot comprises a desktop remote touchscreen panel with a rackmount host unit. In the TouchMix Combo package, the TouchMix Pilot effectively becomes the remote control for the rack-mount T-Mix. The two-unit combination packages are interconnected via Ethernet.