Sessionfuse has released HitSend, a web-based application intended to solve common approval and payment problems faced by professional mixing and mastering engineers.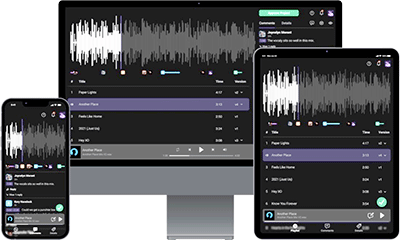 HitSend has been developed over the past three years with the involvement of some of the top names in professional audio production to provide a comprehensive set of project tools that streamline the approval process and expedite invoicing.
Features include full .wav and AIFF playback on any device and feedback on tracks that can flow into Pro Tools, Logic, Studio One and Cubase. Audio is supported up to 12,228 kbps without the use of compression or algorithms, and streaming levels can be monitored before release with LUF volume normalisation. Song credits, ISRC codes and genres can also be checked, and album art can be previewed before release on any streaming platforms.
Additionally, HitSend is the first web-based gapless player to replace DDP players with zero space between tracks in order to hear transition timing.
HitSend follows the guidelines set out by the Motion Picture Association of America and the Content Delivery & Security Association Music Recording Studio Security Program best practices for digital media assets to protect our users and to further advance the protection of the music industry for producers, artists, film scorers, songwriters, mixing, and mastering engineers.
Projects are protected through the use of secure logins, encryption, data privacy and compliance. Deposit and approval payments are supported by PayPal, Stripe, Venmo, Apple Pay and other mechanisms.
More: https://hitsend.io