JBL has released an update to its DDA (Digital Directivity Analysis) Windows application, which provides accurate prediction of the electro-acoustic performance of systems in (semi) open or closed spaces for JBL point-source loudspeakers with CLF data and all JBL Intellivox products. It includes 3D acoustic room modelling, direct sound simulation and statistical prediction of various acoustic parameters.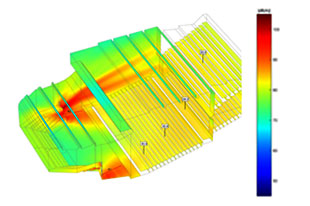 Intellivox makes use of JBL's advanced beam shaping (DDS) technologies. From DDA the radiation pattern of JBL Intellivox loudspeaker arrays can be controlled precisely and tailored to the shape and the acoustics of the space. In addition, DDA offers various design tools that reduce design time and help sound designers to optimise system performance. For installation and commissioning purposes, DDA also generates FIR output filters that can be uploaded to supported DDS-controlled loudspeaker arrays using the JBL WinControl software.
DDA provides 3D geometric models through an interactive 2D geometry builder, supporting a wide variety of JBL loudspeakers, all JBL Intellivox loudspeakers, and all point-source JBL loudspeakers described by a CLF file. Geometry from SketchUp can be imported (requires Plug-in), as well as from Catt Acoustic, Odeon and Ease.
DDA includes design tools for statistical room acoustic modelling via Direct SPL, Total SPL, D/R, STI and Delay Spread. It also allows directivity data usage in Catt Acoustic, Odeon and Ease, and graphics to be exported/copied in various formats.
More: https://jblpro.com