Nixer Pro Audio's PLR64 Dante is designed to allow an operator/commentator to access any two independently selectable sources on the Dante network via a simple remote control panel for on-air and live applications where critical confidence monitoring is essential.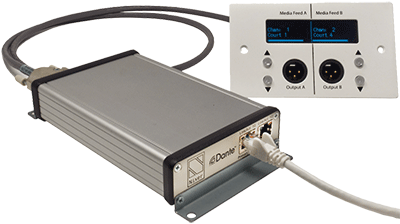 The PLR64 is typically mounted on a wall or beneath a desk, and then wired via remote cable to the two-gang wall plate remote controller. Each display shows Channel Name and provides an output meter level. Balanced XLR outputs provide feeds to local speakers or headphones.
The remote controller allows the independent selection for each output from the incoming Dante stream. Each displays the selected Dante channel name and output signal level on the OLED display. Channel selection is made via scrolling up/down the available Dante channels via a pair of switches for each output, whicht is presented on a 3-pin male XLR. The signal is electronically balanced and provides +21dBu for 0dBFS of signal level.
The unit is offered as a kit comprising three parts – the PLR64 Dante, Wall Plate Remote controller and 1.5m D-sub cable. It does not include a PSU as standard but one can be purchased at extra cost.
More: www.nixerproaudio.com