Maat Incorporated has released DROffline MkII, a cross-platform application for the background detection of file characteristics, measurement of audio loudness and dynamics and logging of all parameters.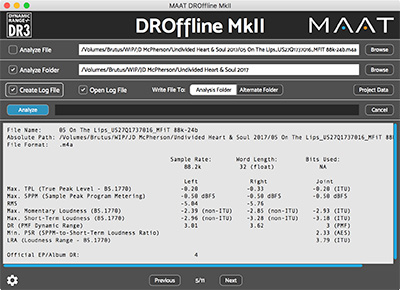 The new native utility claims several 'firsts' in loudness metering, and is the only loudness measurement batch processor specifically designed for mastering and music creation in addition to the more traditional broadcast production and post markets.
Available for both Windows and Mac OS, DROffline MkII follows Maat's original DROffline and is designed for engineers working in all audio areas – including mainstream music production, content streaming, broadcast radio and television, gaming, theatrical, industrial, AR and VR. Measurement methods have been expanded to include all international loudness metrics, plus Minimum PSR as well as Maat's own integrated DRi Dynamic Range standard for judging 'dynamic density,' the amount of dynamic range contrast in a recording.
DROffline MkII is the first loudness measurement utility to combine high-accuracy R128 and A/85 conformance with elements crafted expressly for music production. It is the only batch loudness logger that provides channel-specific trends by augmenting EBU-mandated monaural gauges with classic LR metering, for Maximum Short Term, Maximum Momentary and True Peak, to allow the operator to identify significant trends and channel–specific issues often overlooked during production. It is also the first app to offer both the AES' newly-defined Minimum PSR metric, Sample Peak–to–Short-term Loudness Ratio. In total, 20 measurements are available, along with six informative facets of each file or folder.
All measurements are performed locally, so DROffline MkII is faster and more secure than on-line services. Log outputs, available in plain text or tab delimited format, are highly configurable by the user and, with embedded studio information, are suitable for delivery to the client. The application accepts all modern PCM and lossless formats, including WAV, BWF, AIFF, FLAC and ALAC files at up to 384kHz sample rates.
Working with the current version of DRMeter MkII, the real–time measurement and monitoring plug–in companion to DROffline MkII, engineers receive instant answers without leaving their DAW. A quick drag-and-drop of a clip onto a current DRMeter MkII instance in a session will trigger a background evaluation and measurement by DROffline MkII, which opens a log file in the foreground for inspection.
DROffline MkII is available now with specifications and additional information including user manual and videos accessible on the web.
More: www.maat.digital