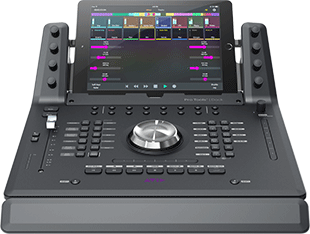 Avid Pro Tools Dock is a new EuCon control surface that works with iPad and Avid's free iOS app, Pro Tools Control.
Based on the Master Touch Module of the Pro Tools S6 control surface, Pro Tools Dock adds to the touchscreen capabilities of the iPad with a single fader, assignable knobs, switches, jog shuttle wheel, a full transport section, automation mode switches, programmable soft keys and more. Pro Tools Dock provides eight soft knobs that enable users to interact with whatever knob set they have selected in Pro Tools Control. With 12 dedicated automation switches, users can toggle modes and write automation directly from the surface.
Pro Tools Dock operates with EuCon-enabled DAWs and video editing tools, including Pro Tools, Media Composer, Logic Pro X, Cubase and Premiere Pro. When paired with Pro Tools or Pro Tools HD, hundreds of key commands, shortcuts, functions and UI elements can be accessed without clicking a mouse. End-users can create custom softkeys to perform practically any Pro Tools function, and recall Layouts to the surface with a single button press.

When paired with Pro Tools S3, users gain new touch workflows, custom control and additional visual feedback, making it ideal for mixing music and post projects in smaller spaces – and on smaller budgets.
Pro Tools Dock is expected to ship in Q2 2016.
More:
www.avid.com