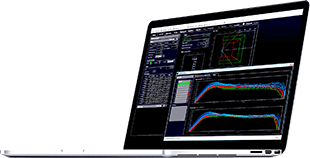 German loudspeaker system manufacturer d&b audiotechnik has released the ArrayCalc V8 advanced prediction tool, adding ArrayProcessing.
According to d&b, ArrayProcessing 'optimises the tonal and level balance of a line array system over an entire audience listening area, defined by its mechanical vertical coverage angle'. To do this, it applies the same target frequency responses to all d&b line arrays, making each hang sonically consistent regardless of array length or splay settings. Each cabinet in an array must be driven individually, as specific combinations of FIR and IIR filters are applied to each loudspeaker. The only investment is for the additional amplifier channels required to drive each loudspeaker.
Using ArrayProcessing, within ArrayCalc, system designers can program multiple slots for different performance characteristics of the same array without the need to make any mechanical adjustments. The constant additional latency of just 5.9 ms remains unchanged, while the entire system can be altered during an event to adapt the performance emphasis.
'We've been using ArrayProcessing behind the scenes for a while now,' says Werner 'Vier' Bayer, Product Manager at d&b audiotechnik. 'The development stage involved lots of input from a wide range of Beta users, who helped us evolve ArrayProcessing to the tool it is today. We believe that with ArrayProcessing, the next level of reinforcement quality is now available.'
'ArrayProcessing refines the performance of d&b line arrays which, in turn, leads to a direct and audible improvement in overall sonic results,' says Sabina Berloffa, Director of Marketing & Product Management. 'Because ArrayProcessing fully integrates into the existing d&b workflow, all of our line array customers secure their investment by achieving even better sound quality from their existing systems, whether permanently installed or for mobile applications.'
The new ArrayProcessing function is incorporated within ArrayCalc V8, available to download free from the d&b audiotechnik website.
More: www.dbaudio.com