DSpatial has released Reality 2.0, offering the only object-based production suite currently available specifically for Avid Pro Tools.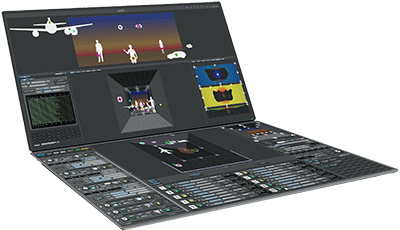 Shipping in AAX format for direct integration – including rigs running in combination with Avid's S6 console (for mixing Dolby Atmos) – Relaity 2.0 comes in four versions (VR, One, Studio, and Builder) respectively priced according to their 'upwardly mobile' specification for use in film, music, television and XR (extended reality) applications, or even theme parks and planetariums.
Releasing Reality Builder in 2018 as the first audio mixing system compatible with all existing immersive and non-immersive formats, the object-based process for immersive creation brought new means of applying reverb, panning and mixing, unifying them into a single space. This enabled engineers to concentrate on the creative process since Reality Builder – a proprietary physical modelling engine that allows real spaces to be created and to locate, move, and rotate sound sources in real- time – provided them with a tool to create and manipulate sound in a completely new way.
The position of DSpatial objects are saved as standard Pro Tools automation, allowing the mix to be modified as many times as necessary until the final rendered mix is completed – so that work can be started and finished inside Pro Tools. There is only metadata, so engineers can start work at home and continue it in a large studio later.
Reality 2.0 has now been natively conceived for immersive 3D production, and is format agnostic. Only one mix is necessary for any existing or future delivery formats independently of equipment and media for film, music, television, or XR – no downmixing required. Mixed tracks are directly compatible with all immersive or non-immersive formats, including Atmos, Auro3D, DTS, NHK, Sony SDDS, Ambisonics – FuMa and ambiX (inputs) and FOA FuMa, FOA ACN, or 2nd HOA ACN (outputs) – and binaural for cinematic VR and 360o video.
Reality 2.0 users can start working with standard AAX plug-ins inserted on each input channel. Those plug-ins provide most of the available functions for working within the classic Pro Tools workflow. This means that Proximity, Inertia, and Doppler parameters are controllable via the same panel with its own spatial location to become 3D multi-generated audio with all automation possibilities on tap. Multiple predefined and programmable sound trajectories can be automatically programmed, and an extensive list of geometric shapes and a library of ambient sounds are provided.
Indoor and outdoor spaces can be simulated, and a library of more than 200 spaces is included. Reality 2.0 recreates the sound of proximity and distance from the listener's perspective – positions of objects are not simulated with panning, but use all available loudspeakers to reproduce complex reflections within the soundfield.
Reality 2.0 enables engineers to locate, move, rotate, collapse or explode sound sources in real-time – even beyond the walls of the listening room. Problematic properties like inertia and the Doppler effect are created automatically by moving the sound source. Additionally, DSpatial's proprietary physical modelling engine includes up to 96 real-time convolutions. DSpatial's 96-channel immersive convolution reverb includes the first N-channel Impulse Response modeller – ultra-realistic and immersive IRs for up to 48 channels. DSpatial software supports eight professional-grade touchscreen models currently, with up to 10-point multi-touch – for positioning sources in an equirectangular view while simultaneously programming distances in the top view.