RCF has released v3.0 of its RDNet proprietary sound system management software.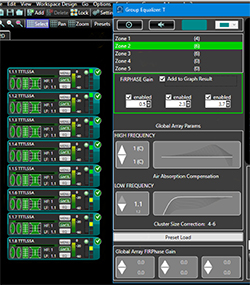 The audio system is now configurable in Groups of speakers or in the new Array clusters, the Air Compensation and the Cluster Size shaping are more precise and controllable, as well as the FiRPhase gains. The subwoofer configuration is faster, even for complex EndFire set-ups.
RDNet provides straightforward and intuitive monitoring and control of the audio system down to every device (object). Each device has its own DSP, so it is possible to address specific presets or modifications of parameters to single or groups of objects. A network user can change level, delay, EQ (FiR as well) and other parameters, including advanced subwoofer configurations. Not only loudspeakers: it is possible to control routing and parameters of multiple RCF devices, such as digital matrixes or amplifiers.
RDNet checks all the connected devices, recognises, and then adds them as objects on the main window, thanks to the auto-scan function. The real-time monitoring features a multitude of parameters, such as fan speed, temperature, inclination of the single speaker, vu meters and peak levels. The RDNet protocol runs on the ultra-stable RS-485 communication protocol through two hardware devices to connect the PC: the RDNet Control 2 (USB) is a two-channel unit that controls up to 64 devices, while the RDNet Control 8 (ETH/USB) is an eight-channel model that controls up to 256 devices in its subnet. RDNet software supports up to 20 Control 8, all simultaneously linked to a computer via Ethernet, fort up to 160 RDNet ports (5,120 devices).
Key features:
Group objects on Arrays with customisable Zones, Air Compensation, Cluster Size, FiRPhase Gain.
Group Array objects in Zones: every Zone has its own colour for a simple discrimination of the parameters.
An incremental control for Array to shape the Air Absorption Compensation.
The low-mid shaping is an automatic calculation based on cluster size.
Every Zone has three different fixed FIR equalisers with gain control.
Array groups have global FirPhase Gain control for parallel inc/decrement of Zone FIRs.
Endfire Subwoofer Arrays design function.
Autosnap on all the sides of an object – nearby objects connect like magnets.
Offline/online operating mode for system administration; Concert Mode with password.
Autosave function setting in minutes.
The equaliser changes in real time.
FiRPhase Gain curves can be visualised together with the traditional EQ.
Copy/paste for Groups.
Up-down control via mouse wheel.
More: www.rcf.it