UK microphone manufacturer SoundField has launched a software version of its UPM-1 stereo-to-5.1 upmix processor.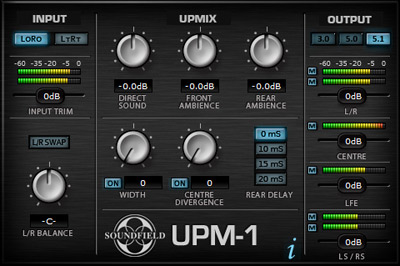 While the hardware UPM-1 is suited to live broadcast applications, the plug-in version is designed for postproduction workflows. It is available in VST (PC and Mac), RTAS (PC and Mac) and Mac-only AU formats and is aimed, like the hardware original, at high-definition broadcasters needing to ensure that all of their material is transmitted in fold-down-compatible 5.1 surround, including archive stereo material, effects and jingles.
The UPM-1 plug-in creates a more natural-sounding 5.1 mix than many existing stereo-to-5.1 upmix devices that rely on reverb and phase manipulation. Instead, it uses an algorithm to analyse stereo input material and separates ambient sound from direct sound – or 'distant' and 'close-miked' sounds. As with the hardware unit, the plug-in allows detailed adjustment of the relative levels of direct sound and front and rear ambient sound in the final 5.1 mix, with continuous software rotary controls for Width and Centre channel Divergence. Level, Mute and Solo controls are also provided for each channel.
Originally released in hardware form in 2008, the UPM-1 has been adopted by major broadcasters such as Sky, SIS Live and NDR as an easy and reliable means of generating broadcast-quality 5.1 surround-sound from a stereo mix.
The UPM-1 plug-in is currently scheduled to ship in October 2010.
More: www.soundfield.com