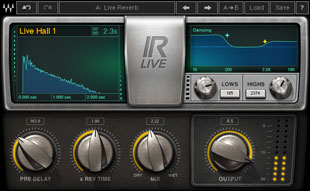 Waves Audio has released new version of its IR1 reverb plug-in, customised for live sound use - IR-Live Convolution Reverb.
Like the IR1, IR-Live is convolution-based, using 'impulse responses' sound samples (or IRs) for its modelling. Featuring a simple and intuitive interface, IR-Live is compatible with Waves MultiRack Native and SoundGrid platforms, as well as all of IR1's impulse responses, including those of world-renowned venues such as Wembley Stadium, CBGB's and the Grand Ole Opry.
In addition, IR-Live includes samples of the world's classic hardware reverb units.
With IR-Live, FOH/live sound engineers now have virtual access to the magic of convolution-based reverb. Waves' IR-Live Convolution Reverb is now available with an MSRP of US$250.00 and an introductory price of US$99.00.
More: www.waves.com