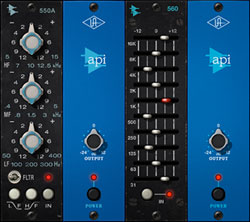 Universal Audio (UA) is to release of the API 500 Series EQ Plug-In Collection for the UAD Powered Plug-Ins platform and Apollo High-Resolution Audio Interface. This API-endorsed, UA-developed collection features emulations of the API 550A and API 560 Graphic, two of the most popular and enduring audio equalisers ever made.
Designed by API's Saul Walker in the late 1960s, the 550A and 560 modular EQs featured Walker's signature 2520 op-amp and proportional Q circuitry. For the API 500 Series EQ Plug-In Collection, UA's circuit modeling team captured the filter shapes, band interactions, and unique filter amplifier clipping behaviour of vintage API 550A and 560 units.
Additionally, the API 500 Series EQ Plug-In Collection includes presets from engineers and producers, including Ross Hogarth (Van Halen, REM, Ziggy Marley), Vance Powell (Jack White, Red Fang, The Dead Weather), Eli Janney (Jet, Ryan Adams, Wilco), Jeff Juliano (John Mayer, Shinedown, Train), Carl Glanville (U2, Billy Joel, Jason Mraz) and Darrell Thorp (Beck, Radiohead, Charlotte Gainsbourg).
'With the blessing and assistance of API and the hard work of our top-notch DSP team, we're proud to be releasing industry-leading emulations of the API 550A and 560 EQs,' says UA CEO and founder, Bill Putnam Jr.
'The sonic integrity and audio performance of API products has always been our primary focus, and UA has demonstrated a proven track record with these same goals,' adds API President, Larry Droppa. 'We look forward to much success with this EQ collection and other API introductions to come.'
Features include:
· Licensed plug-in emulations of API 500 Series EQs
· API 550A discrete, three-band bell/shelf filter set
· API 560 discrete, 10-band graphic filter set
· Models entire electronic path, including custom API 2520 op-amps and transformers, band interactions, and internal clipped filter nonlinearities
Available as part of an upcoming UAD Software release scheduled for February 2013, the API 500 Series EQ Collection is priced at US$299 via UA's Online Store.