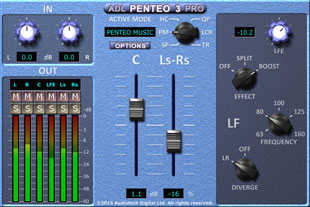 A new plug-in from US company Audiotech Digital Limited (ADL), Penteo 3 Pro converts stereo to 5.1 for postproduction, broadcast and DJ applications.
The plug-in will run on both Mac OS-X 10.5 or later and 32/64 bit Windows XP or later, 32/64 bit platforms. It can be hosted by Pro Tools HD 8/9/10; Pro Tools LE 8 (CPT required), Pro Tools 9 (CPT 2 required), Pro Tools 10 (CPT 2 required); and most AU-compatible and VST-compatible systems.
The visual interface for Penteo 3 Pro has a vintage styling and offers six automated preset modes as well as manual fine-tuning, while the proprietary algorithm at the heart of the plug-in ensures that the processed sound is fully is ITU down-mix compatible to the original stereo.
Penteo 3 Pro will be available beginning February 2013, with US distribution being handled by GC Pro, the outside sales division of the Guitar Center.
'We have seen a steady increase in demand for 5.1 content, especially among our postproduction customers, so it feels very appropriate for GC Pro to represent Penteo, says GC Pro Vice President, Rick Plushner. 'The sound quality offered by Penteo 3 Pro is astounding. GC Pro did extensive listening and testing with our engineering, sales and management teams, and to everyone's ears, Penteo is a superb piece of technology. There are thousands of potential uses for this plug-in, and we are excited to see it put to great use. We also look forward to offering demonstrations at our locations around the country, especially our new high-tech demo facility in Hollywood.'