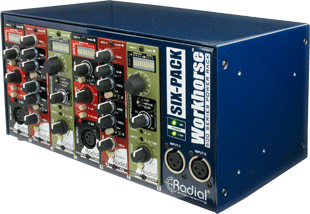 Radial Engineering has added the SixPack to its Workhorse series of power racks for the popular 500-series module format.
The SixPack is a six-slot power rack designed to accommodate all 500-series modules, including older ones made by API. It features a 1.6A supply, offering more than 265mA average power per slot which will support a mix of solid-state and tube modules. The external supply also provides 48V phantom power for mic preamps. Protective circuitry in each slot safeguards the SixPack and other modules against malfunction or shortcircuits.
The casing uses 14-gauge steel construction for durability and shielding against noise. Modules may be patched in series using the Feed switch and stereo mated using the Link function. Extra connectivity includes quarter-inch TRS connectors wired in parallel with the XLRs for cross-patching and parallel processing. These are also wired in parallel to a set of D-Sub connectors for patching to and from a workstation. Two front panel XLR jacks access Channels 7 & 8 on the D-Sub or may be assigned to Channels 1 Q& 4 to create a stereo channel strip. Separate ground lugs on the rear panel enable the system tech to incorporate star earthing or other schemes into the studio design. Optional mounting hardware allows the SixPack to be recessed into a workstation or angle mount. The same hardware also enables the SixPack to be mounted into a standard 19-inch rack.
The sixth power rack in its 500-series range, the SixPack joins the 15 modules that are currently available. 'Given today's ever-changing digital environment, recording studios must be agile for them to adapt and they must also bring a higher level of creativity and uniqueness to the recording process,' says Radial's Peter Janis. 'We believe that the 500-series is perfectly suited for this new reality as it is compact and easily transportable. And when you consider the hundreds of modules that are now available plus the tremendous patching options that can be put to use, there has never been a more exciting time to be involved in music production.'
The Radial SixPack is due to start shipping in January 2013.
More: www.radialeng.com