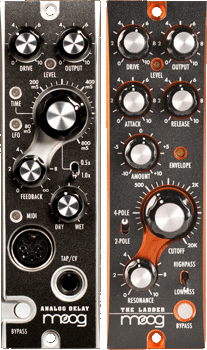 Following the release of The Ladder – a dynamic transistor ladder filter based on Bob Moog's original ladder filter designs – Moog Music has unveiled a second 500 series processor, The Delay.
Being released at the 2012 San francisco AES Convention, The Delay uses bucket brigade technology, but with updated components for use in a professional studio environment. It is also the first analogue delay to appear using API's 500 series format
Key features:
• First Analogue Delay for the 500 Series Format
• 800ms delay time
• Assignable CV/Tap Tempo input on the front panel
• Midi on the front panel
• LFO accessible via Midi
• Stereo linkable
• Ships w/free VST/RTAS/AU editor
Along with the launch of The Delay, Moog Music has announced a drop in price for The Ladder. Both units are availbake in the UK through Source Distribution.
More: www.moogmusic.com
More: http://sourcedistribution.co.uk